Day Three - Museums, Pearl Tower and the Circus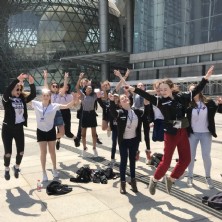 We have been so impressed by the students, they try everything and have found that in doing so you can enjoy some fantastic experiences.
Wow, what a day! We started with a good breakfast again today, unfortunately no sponge cake, but a large quantity of spring rolls instead, also a steamed bun and corn on the cob! As we said at the parent meetings breakfast is the meal that is hardest to get used to, but we have been so impressed by the students, they try everything and have found that in doing so you can enjoy some fantastic, if different, food.
After breakfast we hopped on the coach and set off to the science and technology museum, this is a great museum really interactive, students were amazed at the robot who could complete a rubrics cube that you had muddled up for it, the world of spiders was also a hit as was the 'spectrum of life' and 'space navigation' – some of the students experienced a ride on a gyroscope. There was a table tennis area where balls were fired across the table at increasing speeds, Mr Cooke was a dab hand at this, impressing the chaps running it, and even out batted Mr Smith's performance last year!(sorry Tim!) We had a good 2 hours here and as well as seeing the attractions were somewhat of an attraction to the hundreds perhaps thousands of primary school students also visiting the museum, some waved, there were some tentative 'hellos' and others just stared and pointed at us!
Next stop was just outside the museum, to the A P Plaza market, this is an absolute warren of small shops selling all sorts, not all genuine – Louis Vuitton, Rolex etc, however we had far more important items to get – Waving Cats! We descended on one shop and set about bartering, having 13 students and 3 staff in a shop, the shop keeper soon gets the idea that if he gives a good price he could get a lot of sales! With some hard haggling we got waving cats down to 25 Yuan each – great value for these amazing adornments to any home! Close to an all-time record price. Students set about selecting cats, pictures, ornaments, dragons, fridge magnets etc. The gentleman running the shop was soon greatly outnumbered and was soon agreeing to the low prices that students initially offered, at one point I did say to him that he could try asking for a few more Yuan, as the prices were getting very low, but I think he knew these hagglers were experts! China is a very child friendly place and the people are very humble and I have always found that the shop keepers will haggle, but do not take advantage of the children. So we left with a variety of items and promised to some back again next year!
Next stop was lunch, this was in the museum cafeteria, a strange system, where you top up a card and use this to buy lunch. There was a variety of foods, some western offers, and some very Chinese. I went for the amazing 'oyster sauce denim rice soup', as did Mr Cooke, as unfortunately they had run out of 'stone library door sauce pork rice soup'. I guess it's just not the season for stone library doors. Miss Shirley went for the pizza, a different selection of toppings, today carrot, peas and sausage. The students went for a variety of Chinese and western foods and really enjoyed what was on offer.
Next stop, via some traffic jams, was the Oriental Pearl TV tower, the third highest TV tower in the world and the first high rise building to be built in Pu Dong. The weather here is amazing, we have had sun and blue sky all day every day, I have never seen such weather and even the Chinese teachers are commenting on how unusual it is. Before heading in we walked around the elevated walkway to get a great view of all the amazing buildings in the financial district.
A quick stop to top up on water and drinks before we heading into the tower, and some very long queues. It was really busy, the busiest I have seen. (After we left we saw a band, some very large limousines, and many police, so there must have been some VIP's coming, this explained the queues, some of the lifts had been closed and some sections of the viewing areas too) however this didn't impact upon our visit too much, We has wonderful views across the city, the new high rise and the historic buildings, banks and customs hoses built by the British when this was an important trading port along the Bund. The Huang Pu River was as ever really busy. The glass floor was a hit, after a tentative few steps the students were soon having fun taking selfies with the view down to the plaza below. After another ear popping lift ride down to the base we went into the museum, this is a recreation of Shanghai from the time when it was a small coastal fishing village, to the bustling port of the 1930's before the end of this era with the Cultural Revolution and a new direction for China. We wandered through the street scenes and the shops somewhat rapidly as the queue had impacted on time.
Dinner was different! I had a restaurant in mind, that we visited when we came here many years back, students were
keen, Japanese Yudon noodles – however the tour guide said that the journey to the Circus would be 2 ½ hours due to the traffic and so we had only 20 minutes to eat! I was a little sceptical of her time scales, but didn't want to miss a real highlight of the trip. I explained this to the students and their disappointment and the sadness on their faced was tragic, when I broke the news that we couldn't have Japanese noodles, but would instead have to go to McDonalds for take away. We quite literally had to drag them up to the McDonalds, where we managed to cause quite a hold up ordering our food. Laden with McNuggets, cheeses burgers, big macs, and chicken burgers we headed back to the bus to eat! Abbie had popcorn chicken and chips for lunch and McNuggets and chips for tea (sorry!) breakfast was very authentic Chinese though!
Well, we arrived at the circus a good hour and 15 minutes early and were the first to be seated in the massive empty auditorium! Fed and watered the students enjoyed a bit of time to relax and sit down as we have been on our feet a lot today. Soon the show stared. This is my 8th time of seeing it and I am still enthralled by it. Any description can't do justice, there are amazing acrobat, cyclists (8 on one bike by the end), contortionists and trampolineists. All accompanied by live music and singing. We had great seats, right at the front. For me the highlight of the show is the motorcycle display, as they roared in next to the seating area Emma, jumped about 2 m. out her seat! The finale is 8 motorcyclist whizzing around a steel ball. I have no idea how they manage it, absolutely unbelievable.
The show was over all too soon, and we headed out back to the coach, a few nodded off and we got back to school at around 10.15. Heading for showers and bed! We have a lie in tomorrow, breakfast is not until 7.45 (not sure that the students consider this much of a lie in!) then another exciting day. We have lessons in the international department tomorrow so students will be going along to these, Miss Shirley is teaching a model English lesson too. I was asked to do this a few years ago, you never know who will be there to watch, I had 40 teachers and all the parents. I think they enjoyed the show of a geography teacher pretending to be a primary English teacher! Miss Shirley being an English teacher will certainly be modelling far better teaching than I did!
After the lesson we will be sending the student off on homestay, with their partner student and family. Hard to believe that the first week has passed by so quickly. They are certainly ready for a weekend, and a chance to have a proper lie in and a rest.
So again another great day, with amazing students for company.