Jack Hunt Triumph at 10th Annual Film Awards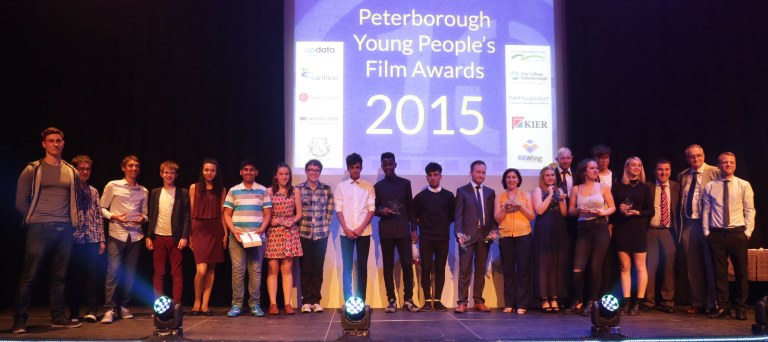 On Tuesday 7 July, Jack Hunt School hosted the Peterborough Young People's Film Awards. This year's event was particularly special as it was the 10th Anniversary of the Awards. As well as the Mayor of Peterborough and his wife attending, special celebrity appearances by Lewis Saunderson, the Master of Ceremonies for the evening and actor, Warwick Davis from Star Wars and Harry Potter fame, made the event particularly memorable. In recognition of Warwick Davis' support of the Peterborough Young People's Film Awards, the Best Overall Film Award was renamed the Warwick Davis Award and this year saw it awarded for the first time.
Schools from across Peteborough entered numerous films into the competition, including entries from The Voyager Academy, Ormiston Bushfield Academy and others. The standard of entries was very high, demonstrating the skills, enthusiasm and hard work of students from across Peterborough. It was a wonderful evening and a superb celebration of our city's local young filmmaking talent.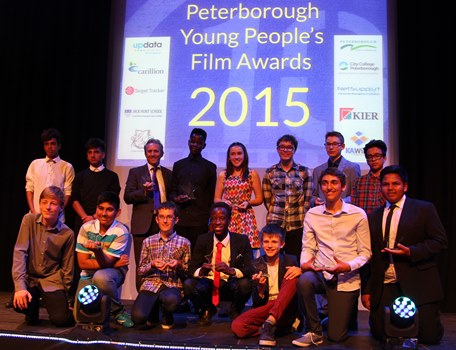 Jack Hunt School students had a fantastic evening, triumphing in their categories. Year 7 and 8 students won with the film 'Think Sink', a short comedy infomercial about the need for careful waste disposal. They also collected 3 runner up trophies for 'Rewind', a comedy time travel film about two students stuck in a time loop, "Welcome to Jack Hunt School", a short documentary about life in our school aimed at welcoming Year 6 students into the Jack Hunt community, and they also collected a prize for their work on soundtrack design.
William Ralfs (Year 8) one of the filmakers involved in 'ThinkSink' and a member of the paparazzi for the night said "It was a really good evening, we were really happy to win our category and ten awards overall."
Year 9 and 10 students triumphed in their category with '#OnePeterborough', a moving visual adaptation of a poem by Theo Eze, which celebrates the shared community values of Peterborough. The film involved a wide range of current and ex-students, many of whom were first time actors, camera operators and sound technicians, working together with partner organisations across Peterborough to produce a technically accomplished short film. The result is quite special. Year 9 and 10 students also won runner up trophies for their work on the fantastic and stylish 'Parallel' (a film noir comedy about a student wrongly accused of violence towards another student) and 'Phishing' (a comedy infomercial about the dangers of sharing too much information online). 'Parallel' also collected a runner up trophy for soundtrack design.
Both 'Think Sink' and '#OnePeterborough' were nominated for the coveted Warwick Davis Award for Best Overall Film. '#OnePeterborough' triumphed on the night, beating off strong competition from other local schools, to win the prestigious award as well as an iPad Air for the school.
We are thrilled with the efforts of our students. With 2 category wins, 8 runner up trophies and the Warwick Davis Award under their belts, Jack Hunt film club students are well on their way to the red carpet awards of Hollywood.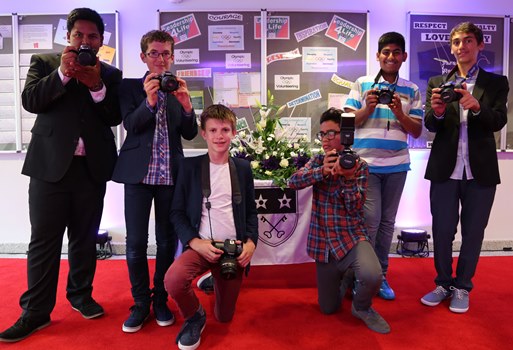 "I am thrilled by the continued success of our students. This year the film club members have really surpassed themselves, working collaboratively on challenging and technically accomplished films to very tight deadlines. The films are a testament to their resourcefulness, teamwork and creativity. Well done everyone and a huge thank you to all the students who helped to make '#OnePeterborough' happen. I would also like to convey my thanks to the AV and support staff, musicians and dancers as well as the the students armed with cameras acting as 'paparazzi' who did such a fantastic job to make the school feel like Hollywood for the ceremony on Tuesday evening."
We would like to thank all the student filmmakers, Sixth Form assistants, musicians and dancers as well as the amazing AV Technical and support staff for turning Jack Hunt School into tinsel town for one magical evening. As Year 10 students, Jessica Lines and Freddie Evans said "It was amazing, it felt like the Oscars for the evening." Well done Jack Hunt!
If you would like to become involved in filmmaking opportunities at Jack Hunt School, speak to Mr Roberts in the English Department. Who knows, perhaps the next Steven Spielberg or Katherine Bigelow is you!
Think Sink
#OnePeterborough