Students Say 'NO' to Bullying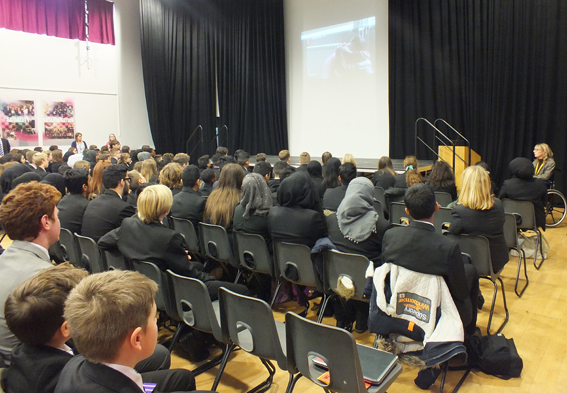 In recognition of Anti Bullying Week (16 – 20 November 2015) the focus at the six House Assemblies was very much about being aware, giving guidance and providing support for students. Assistant Headteacher, Ms Cliffe attended each assembly with the same message about continuing to be aware of the issue of bullying, what to look for and how to take the right action. She also took the opportunity to thank students for their continued diligence against bullying.

During the assemblies, students also watched the short, award winning film that had been made by Year 9 and 10 students called #OnePeterborough, a moving visual adaptation of a poem by Theo Eze celebrating the shared community values of Peterborough. The film also gave the students a chance to reflect on the shared community of Jack Hunt and the values we uphold at the school.
Ms Cliffe also wanted to take the opportunity during Anti-Bullying Week to thank all those young people who say 'NO' to bullying. To those students who do not stand by and do nothing but who are mature enough to know when something is wrong and then take the right positive action."
She said, "We would also like to say a big thank you to all parents, staff and students who make the Jack Hunt vision of 'Being Different, Belonging Together' a reality and really mean something."