Peterborough Council for Voluntary Services
Website: www.pcvs.co.uk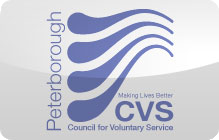 Peterborough Council for Voluntary Service (PCVS) is a registered charity set up by local organisations in 1980 as an umbrella and network organisation to the voluntary sector in Peterborough.
Local charities, voluntary and community groups, self-help groups and statutory organisations can access services as well as members of the public.
PCVS also manage projects.
PCVS also manages a number of projects at the Centre in Lincoln Court. Many of the projects have been hosted by PCVS since their start. The organisation also responds to 'one off' projects and start up projects with the view to enabling them to become independent within time.
For more information about each of the current projects please visit www.pcvs.co.uk

Employment Opportunities:
Check back soon for more employment opportunities.

PCVS likes to keep you up to date. For all of the latest information please download the newsletter below: