First Day In Shanghai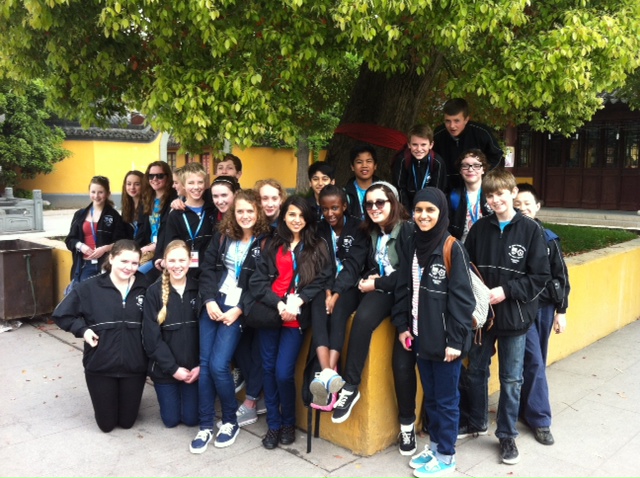 Dear All,
Hello from a warmer shanghai, today has been much warmer and sunnier, more like the weather you seem to be enjoying! Firstly just to reassure you we are a long way away from where the earthquake occurred, so all safe and well.
Today was a day of sightseeing, the students from the Gold Apple School have all been at home for the weekend so we had the school to ourselves. We had a lie in this morning, in order to get over the jetlag…. It certainly has greater effect on the older members of the party (staff!)
We went out this morning to Longhua Buddhist temple, it was very peaceful and tranquil there, after a good look around we had lunch there, some wonderful vegetarian noodles. After lunch we drove out to Zhujiajiao, this is a very old part of the city, built during the Ming Dynasty, it has wonderful winding streets and ancient bridges surrounding a series of Canals and waterways. Very ancient and very historic, although also housing a KFC that the students managed to locate!! In the warren of streets there are lots of craft and tourist gift shops. The power of our students to barter will, I think, lead to a further drop in Economic output of China! Hard bargaining meant that we have some good value t-shirts, chopsticks, toy dogs, fans and artwork.
This evening they met their host students and also other students from the classes that they will be joining for lessons tomorrow. First thing however we are participating in the flag raising ceremony, and two very lucky students will have the honour of raising the Union Flag alongside the Chinese flag.
I have attached a couple of pictures, they are all eating well as we are being served a variety of both Chinese and western foods by the school
All are now tucked up in bed as tomorrow we have an early start at 6.30 ready for lessons!
Best wishes,
Martin Barwise
Assistant Headteacher