Jack Hunt Brings Dodgeball To China
Dear All,
Just when we think that the days can't get any better something happens to surprise us all!
Today after breakfast we went to the state run primary school for migrant workers children. The journey in itself was exciting as the road to the school was closed and our bus driver didn't know an alternative route, luckily there were some police on hand and we managed to get a police escort to the school!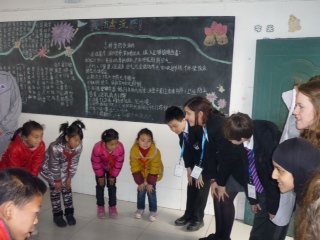 As we thought the school was very different from the Gold Apple, resources were few; classes were large (48 students) and students from across China. Many speaking local dialects and not
Mandarin. However they were very eager to learn and had great fun, as did our students and the students from the Gold Apple School who came with us. In all we taught 4 sports lessons and 4 English lessons. The sports lessons were dodge ball, and in English we learnt the parts of the body and culminated in a sing off of heads, shoulders, knees and toes! It was a very humbling experience for the students and ourselves.
The dodge ball was a real hit (a big thank you to Mrs Dingle), our sports leaders led warm up activities, demonstrated the game and then the primary school students played a game. They loved it and got really involved with the dodge ball. Also the English teaching, it was great to see all the preparation that we put in coming together. After some initial nerves the students were soon in their elements, organising the students and leading the lessons. Staff could take a back seat and see students leading the learning.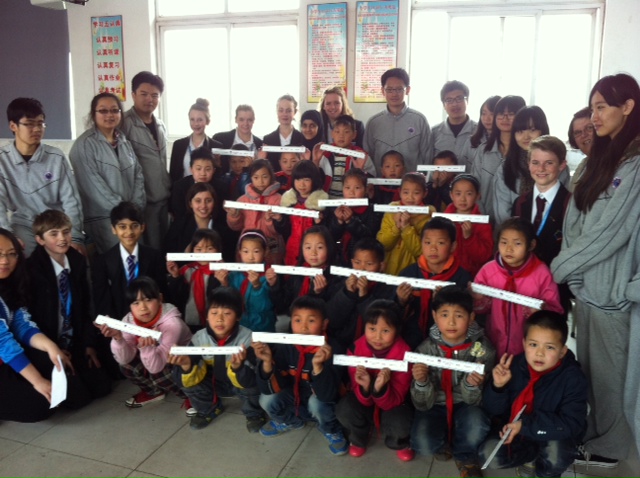 I have attached a couple of pictures of the teaching, the Jack Hunt School rulers that we gave the classes as gifts went down a storm, although one or two of the boys did prefer to use them for sword fighting!
This afternoon we travelled into central shanghai to the old city, we spent some time wandering the small and ramshackle streets before heading to a restaurant for dinner.
For the second night in a row we have had a birthday party, Kiri Anne was presented with a fantastic cake, cards and gifts and a rousing rendition of 'Happy birthday'. It has been great to have 2 birthdays on this trip and a really unique way to spend a special day.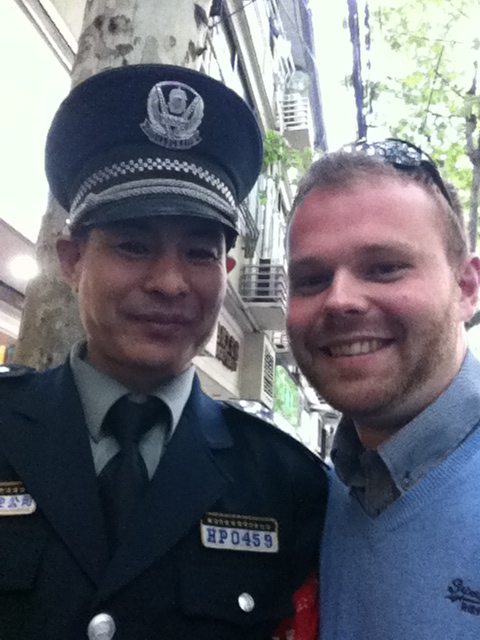 Mr O'Connor was approached today to join the Shanghai Police Department! As you can see in the photo. Luckily he decided to stay as a teacher with us!
Tomorrow morning we have an early start as we have an aerobics lesson at 6.50! Then morning lessons with Gold Apple Students. The afternoon is the much anticipated sports festival. This is a major event that we have organised with sports leaders from the schools working collaboratively. We are hoping that a TV crew will be coming to film part of this for the news.
Martin Barwise
Assistant Headteacher