Sights of Shanghai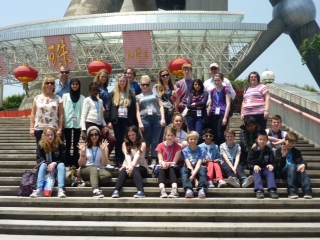 Dear All,
Today was a day of sightseeing, however I did offer to the students that we could go for a run before breakfast. I was joined by EJ, Archie, Lewis and Jaydon at 6.15 for a two mile run around the track. As we walked onto the track the Chinese national anthem was playing and as we ran we were joined by 300 Gold Apple students. I didn't realise that so many had taken up my offer of a run! In reality I think it was students about to go on a school trip and the laps of a track are a good way to get them ready for the journey. Something we could take up at Jack Hunt! Although perhaps without the Lady Gaga blasting out over the PA system.
After a quick breakfast we headed out for a day of sightseeing. The first stop was the Pearl Oriental Tower, this is always a highlight of the trip. Located in the centre of Pudong, the financial district, the tower is 468m high, and we were very lucky with the weather, it was a clear as I have ever seen it in Shanghai so we had some great views. The highlight was the glass floor! At the bottom of the building is a very good museum when we walked through the recreated streets of old Shanghai, it has a very rich past, however as a result of the cultural revolution there are not many relics and artefacts to be seen. We moved onto the Cheng Huang temple area and this provided an opportunity for some more shopping, and to fine tune bartering skills!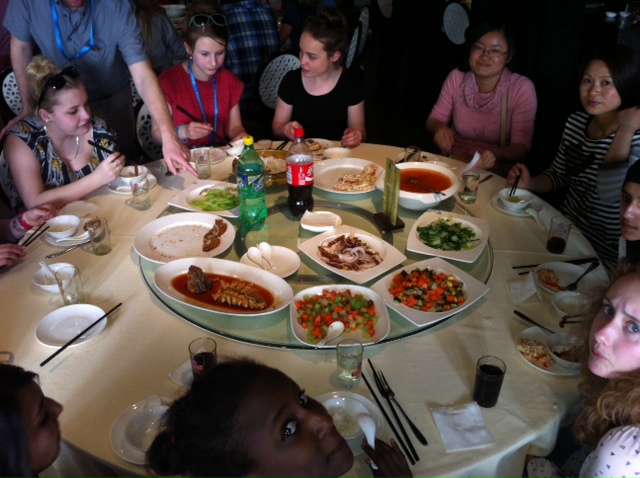 We have been very well fed today as we have been to two restaurants, the first was a Japanese noodle bar, then for dinner we went to a restaurant and tried a variety of local fare, including steamed dumplings, octopus and fish - including the head!
The evening concluded with a trip to the Chinese acrobatics show - ERA, intersection of time. It is hard to do justice to this amazing show in an email, suffice today the acrobatics were unbelievable in their skills and agility and the motorbike display unbelievable!
We got back to school late, around 10pm, and have been busily finalising plans for the lessons that we are teaching tomorrow. English and Dodge ball lessons to the primary students.
Best wishes,
Martin Barwise