Saturday Already!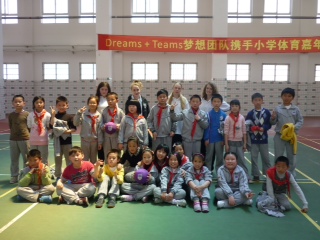 Dear All,
Saturday today and hard to believe that we have done a full week in Shanghai, with all that we have managed to fit in it seems like that we have done at least 2!
Although today was Saturday school ran as normal. This is not usual, however as there is the labour day public holiday (5 days Monday to Friday next week) the school is open for lessons this weekend and next weekend to ensure that no teaching time is lost.
This morning was a busy morning of teaching. I was teaching a 'model primary school lesson' to a class of grade 3 students (8 years old) 30 teachers came to observe (not the 40 I had been told to expect, so that took the pressure off!!) and I had ordered some resources to use in advance. A rather mixed bag of resources arrived for me to use including a large roll of brown plastic sheeting and 5 sheets of sandpaper! Still we managed to learn how to introduce ourselves and others in English and produce a 'hand print tree' full of facts about ourselves. The students seemed to enjoy it, as did I, but I don't have any immediate plans to retrain as a primary teacher just at the moment.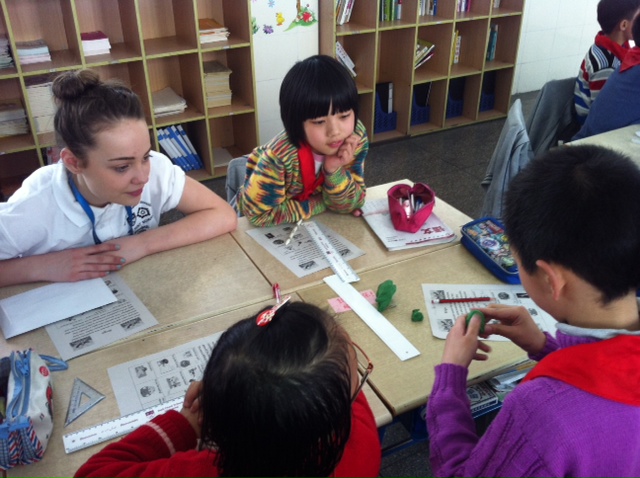 Our students we also teaching grade 3 this morning. In all we taught 5 classes, 2 lessons a piece. We taught English lessons, using 'bingo' to develop questioning and also introduced 'rapido' where students had to make objects on a randomly selected card out of play dough, and the other students guess. The class teachers thought that this was a fantastic way to introduce new vocabulary and I am sure that this will be used in lessons to come. Finally we finished off with 'head, shoulders, knees and toes' this is a firm favourite and now well established in our teaching repertoire. In the sports hall the students taught dodge ball, this was without any translators and the students worked really hard to overcome the language barrier. The Gold Apple students really enjoyed this new sport and we hope that this is something that they will continue to play. A big thank you goes to Mrs Pidoux, Mrs Dingle and Mr O'Connor for their preparation of resources for these lessons. It was great for JH staff to be able to step back and let the students take charge, their confidence and ability in leading these sessions was fantastic, they have come so far form the first leadership session that we ran at Jack Hunt a couple of months ago. We are really proud of them and I hope you will be when you see the images of them at work.
After lunch it was time to see some more of Shanghai, the first stop was the science and technology museum, this is a really hand on experience, the students spent a good couple of hours exploring the different exhibitions from earth science to ICT and robotics. We had planned to go to KFC for dinner (this was decided by a majority vote by the students – 100% in favour) unfortunately this was closed and so we found a great restaurant that served fantastic pizza and burgers, so all were well fed.
From the restaurant it was quite a dash across the city to the Huang Pu river side, here we boarded the river cruise boat for our trip along the river. We set off as evening fell and then saw the Bund and the amazing skyscrapers of the Pudong district financial centre. As the sun went down the lights were amazing. The students took loads of photos and had a great evening.
It is great to see the students having such a great time, be it in the classroom, the gym or visiting the city. They have bonded very well as a group and are really supportive of each other. We all agree that they are a real pleasure to be with.
A few more pictures attached and I know that you will have several hundred more to view when they come home.
Tomorrow we have a party with the gold apple students in the morning, this is centred on a series of musical acts and students have had some rehearsals this evening. Mr O'Connor has been designated musical director owing to his accomplished mastery of the Chinese recorder. His playing is gradually becoming more melodic and sounds less and less like three cats being strangled. We may yet see him at the number 1 spot in the Chinese charts! In the afternoon students are going on homestay, they are excited and as they know the students they are going to and have linked with them over the week this is certainly less daunting for them.
With best wishes,
Martin Barwise