Last Night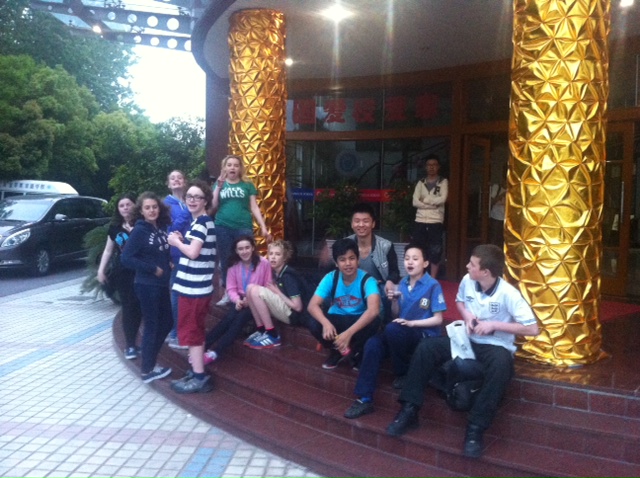 It is hard to believe that it is our final night.
As I write this I can hear the sounds of students jumping up and down on suitcases, straining to close zips and struggling to squeeze one more waving cat, jumping frog or pair of chopsticks into their suitcases.
They have all returned safely from their home stay, buzzing with stories about what they have seen and done. I think that having done so much partnership work during our time here the friendships that they have made are very strong and they have enjoyed each other's company greatly. When they came back from the visit there was a celebration meal and many fond goodbyes. The school is now quiet as the staff and students are all on their holiday. All except Eileen that is, who has delayed her holiday until we are safely on our way. She has been the crucial link with the Gold Apple School and without her assistance and organisation the whole trip would not be able to run as smoothly as it has. Today she and I spent a good deal of time making arrangements for the return visit in July, and also had a meeting with a representative of the British Council to look at how the partnership can move forward in coming years. There is a great deal to look forward to.
Tomorrow we have an early start as we are planning to be on the coach by 6.30 am to be in good time at the airport to fly home. In the information pack we have an ETA at the school at 8am. This is M25 dependant, I hope that it will not be too bad if we can get through immigration swiftly. We will ask students to call and update when we have a clearer idea of time. Our flight number is BA168 I if you want to track our flight arrival time.
I don't know where the time has gone but when I look back on all that we have done, we have managed to fit so much into the trip, the students have been fantastic company and thrown themselves into every opportunity that they have been given. The purpose of the trip, as we said from the very outset, was to develop student leadership and this has certainly been achieved.
I would like also to extend a huge thank you to the staff that have been on this trip, Mrs Pidoux, Mrs Dingle and Mr O'Connor. Their energy and enthusiasm for all that we have done has been fantastic and they have also been great company. Also a very big thank you to Mr Crawley for the amazing work that he has done to get the trip organised and Mrs Kilbey for her great on-going support for this partnership.
Look forward to seeing you tomorrow.
Best wishes
Martin Barwise