Wednesday 3rd July - Inspiration in Cambridge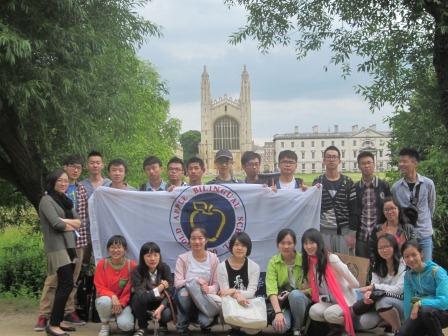 Today, our Gold Apple students went out to explore the Cambridge University where they have been looking forward to for years. We access this area through the Clare College. The first college we saw was so attractive that it slowed down our walking. Historical architecture and students, green trees and beautiful flowers, bridges and rivers, all combined together to present a calm and creative environment. From the students words, a lot of them have started to think about studying harder for coming here to live.
The whole trip was accompanied by Miss Small, Miss Wilkins and Mr Rasib from Jack Hunt School. They toured us to the center of Cambridge, where they can easily choose how to begin their adventure. Shopping for relatives and friends makes everyone feel productive. Afterwards, Pizza Hut is lucky to be our Cambridge meal site and pleased the students. It is arranged so well that our students did really enjoy their meal, which might ease our students' food home-sickness. In China, we have the Pizza Hut too and students like it a lot.
Eileen Shang - Gold Apple School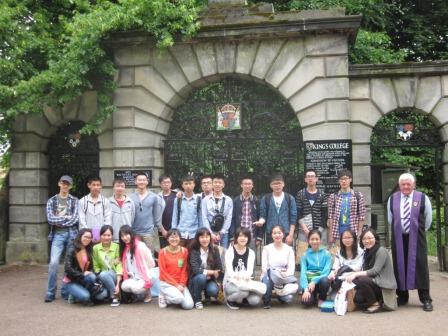 After the great meal, we are still chasing Jack hunt school teachers to help us to get the permission to enter the Clare building. They have been very helpful to finally get us into Clare college and a special tour guide led us to the bar, which turns to be the first bar they went for their whole life. Though they are still too young at this moment, they still enjoy visiting it. The canteen is quite normal, but where the Cambridge students hold formal meals aroused our students' interest. It is exactly like the scene in the Harry Potter. Everyone sat down and had a photo to save the memory there. We also had chance to see the most beautiful Garden, the chapel of this colledge, and the condo in the river.
Because of the exam season, it was a pity not to walk through the king's college, but we are still able to find the gate and take the photo with the security guard. That takes off the regret from our students. Chocolates, clothes, souvenirs, you could tell how much they like the university city. However, the most precious memory is still the learning atmosphere and the encouragement for their academic school life. Great motivation!