Thursday 4th July

Today was another day in school and the Gold Apple students had the chance to experience a full day of lessons with the Jack Hunt students. The Chinese pupils again went with year 10 students to GCSE lessons, they attended subjects such as French, Art, Design technology and PE. It was really pleasing to see the students working so closely with each other and I have had number of other students ask if they can have a Chinese student attend their lesson which is really pleasing to hear. Jen, one of the Chinese teachers was also able to go and visit an AS level physics lesson to see if the course differed much between the one delivered at the Gold Apple and Jack Hunt. The school in China would like to set up a British Curriculum so they can come and study in the UK.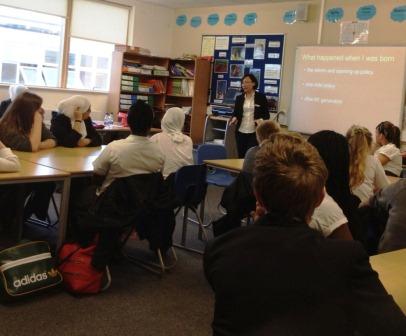 Lunch seemed a real hit with the students, today with it being July the 4th the canteen had laid on a American day meaning it was burgers and chips for all. Period 6 was a real treat for a group of year 8 students as Eileen delivered her first lesson in the UK. She discussed how the Chinese life style from pre 1980's and now has changed. It was an excellent insight into what life is like then and now. Eileen talked about things such as the the clothing and housing amongst other thing. The students were really interested and asked Eileen some good questions about life at the Gold Apple School and Shanghai. After school the students spent some time looking at the things they planned to teach in the primary schools tomorrow, they spent 2 hours practicing and preparing to ensure the primary students they would be teaching would enjoy the lessons.
At 5.30 the host students arrived back at school and they all met in the sixth form centre. Pizzas arrived from Dominos and students brought their own snacks and drinks in preparation for Spiderman 3 to start. As the movie went on it was clear the students from all 3 schools involved were more interested in the socialising aspect and soon the speaker was unplugged, music was playing and students were chatting, having fun and getting to find out more about each other. When the evening ended the students went back home with their host families, another great day had passed with the students excited about tomorrow and looking forward to teaching in Primary schools.
Mr Crawley - Jack Hunt School