Friday 5th July - A Taste of China for Primary Schools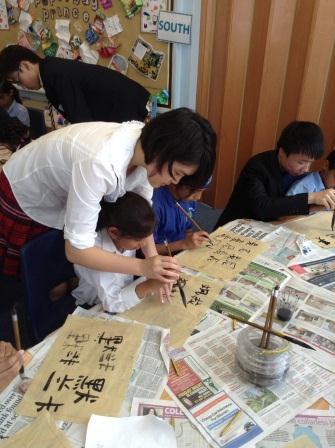 Today the Gold Apple students along with Emily and Jayden went into Primary schools to teach the younger students a range of traditional Chinese activities.
In the morning the students went to Longthorpe where they worked with year 5 students, they had planned two activities to teach them, paper cutting and Chinese Calligraphy. Half of the Gold Apple students showed the children how folding and cutting the paper could create some really unusual and pretty shapes. Longthorpe students were taken through this step by step and produced some lovely cuttings all different and all unique. The other half half taught a second class how to use Chinese Calligraphy brushes and ink. First they were taught how to hold the brush correctly, this wasn't the same as holding a pen or pencil, the grip was completely different and the brush needed to be completely upright. The Chinese students asked the children for their names which they translated into a Chinese in pencil which they were then able to copy. Some groups were shown how to write things such as England and animals too. After an hour the two classes swapped over so that all the children had the chance to try the activities. The year 5 children all seemed to thoroughly enjoy the activities the Chinese Students taught them and the work they produced was excellent. When they had finished the children headed outside for their morning break and the Gold Apple students cleaned up the mess which had been made, one student was even kind enough to run the hoover over the floor!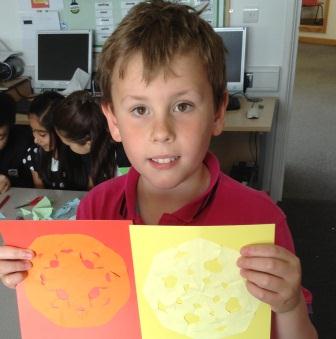 After morning the break the students showed the Longthorpe children a game called Jianzi which is a 'keep up' game commonly found in Asia. The aim is to keep the weighted shuttlecock in the air as long as possible using any part of the body except the hands. One Longthorpe student managed 17 which was really impressive. The best students were able to keep the shuttle as a memento of the day.
In the afternoon the students went to Thorpe school, this time all the students worked in one class working with 2 year 3 classes, they taught these students Chinese Calligraphy and again showed them how to write their Chinese name. The students worked really hard and produced some excellent work, the best ones were given Calligraphy pens to keep and hopefully practice their skills at home.
The Gold Apple students were excellent with their leadership and all the primary teachers involved commented on how good they were with the younger students. After this busy day the Chinese students headed home to enjoy the weekend with their host families.
Mr Crawley