Fond Farewells Follow our Fantastic Sports Festival
Friday was the final day in school and all the students involved in the Exchange from John Fisher, Gold Apple and Jack Hunt Schools had prepared a joint Sports Festival for Year 3 students from Thorpe and Longthorpe primary schools. There 9 different activities, and the Primary students had been split into mixed teams from both schools, they were given a team name which was a British and a Chinese City and following the opening ceremony by Emily and Cici the children were lead by their Group leaders to their first session. They went around in a circuit completing each activity, trying to get the best score for their team. Everyone worked worked extremely well together, enjoying mixing with students from different schools as well as being led by a the older students from Peterborough & Shanghai. At the end of the festival the 'London and Shanghai' team triumphed. They received skipping ropes as a prize with shuttlecocks for all the runners up.
Once the Festival was over, we took a short break before students played in a Rounder's game. Jack Hunt students wanted to play school against school but we felt it would be fairer to play a mixed game as the Gold Apple students had never played before. The students then headed to another fish and chip lunch this time in the school canteen.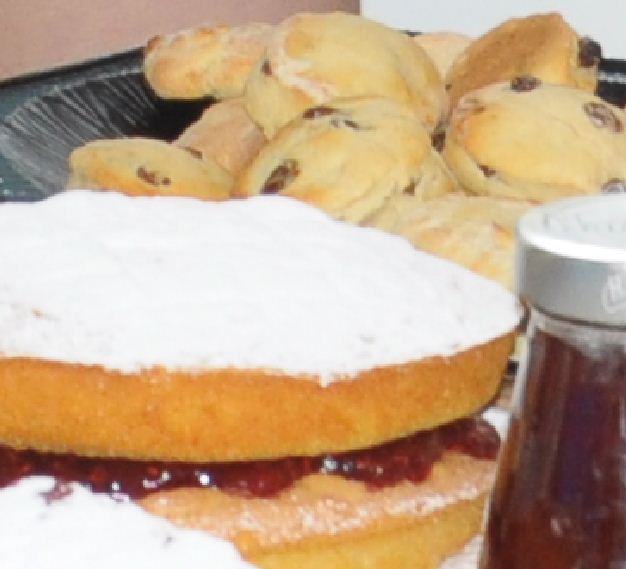 In the afternoon Mrs Pidoux treated everyone to a scone and cake making masterclass, where the students had the chance to work together to make food to be eaten later at the farewell party.....Due to health and safety requirements I needed to sample these items before they were eaten in the evening and I am pleased to say they were delicious!
As the day drew towards a close everyone involved in the exchange came to the sixth form centre to celebrate the end of two weeks. Everyone brought food along and had the chance to discuss their experiences, memories and stories. All the students were presented with a certificate and the Gold Apple students gave their host families a pendant from their school as a special memento. All agreed it had been a wonderful experience for all students and parents.
On Saturday the families spent the day with their families, some shopped, some did a little more sight seeing and then on Sunday all the families met bright Land early at school ready for the trip home. We had a lot of tears and this was just from the hosts. New friends had been made and hopefully these friendships will continue for years to come.
Mr Crawley
Jack Hunt School