Bonjour From the Students
Bonjour from the students! (- or at least from Keyleigh!)

Today we FINALLY had a lie in! After our late night walks, and 'extensive' French and art work, a lie in was just what the doctor ordered…or at least what we all demanded he order (- as it was in the budget) When we finally dragged ourselves out of our warm beds, we took the very fast-paced metro ride, from Crimée to Palais Royale, changed over and went to Charles De Gaulle Etoile.

We'd like to say it was an uneventful journey, but as the metro doors were closing our very brave teacher, Aurelie 'saved' one of the students- by saved I mean, helped the student get on the metro whilst leaving her behind….to be fair, when she finally caught up with us at next stop, we gave a massive round of applause- scaring the rest of the French commuters, her victory words were "don't worry, I'm here to save lives!"

(Sorry we are doing this in detail).

The first view as we left the metro station was the Arc De Triomphe, Art students were quick to jump in and take photos, including Mr Raine! Whilst French students were complaining about the amount of stairs we were about to climb…which I may add: was a lot.



As we attempted what seems like climbing Mount Everest to reach the top, we saw the most amazing sight of the Champs Elysees from the top; we also saw the most amazing skyline of Paris.

| | |
| --- | --- |
| | But as many know what goes up must come down…I think many of us may have had a serious case of the jelly legs!!! I (this is Keyleigh by the way!!) started complain I was hungry, once we'd gone off to our various fast food restaurants we caught the metro down to Le Louvre, taking a brief détour by Les Colommes de Buren, with climbing and jumping (may sound like a safety hazard but I can assure you no EHIC cards were needed) At the Louvre we saw the famous Mona Lisa- little disappointed and didn't really understand what the big deal is…but hey, I'm not here for art! (Sorry Mr Raine) |
After the Louvre we made our way to Centre Pompidou, had some shopping time (euros burning holes in many pockets) we ate a French dinner, crepes stuffed with ham, cheese and egg in a little café and crêpe with sugar and butter for dessert, many laughs were shared over all, best (and most edible) dinner (that Mr Mandin has bought for us) so far.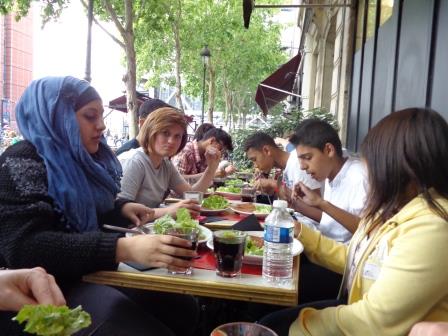 As many of us were shattered from the late nights, we all agreed that early night may be in order! As I sit here now at 9:25 with the Mr Raine beating year 10's at blackjack and six formers social networking, I can say that Paris has welcomed us with a bang, with new friends made as well as memories (and Aurelie's first time in Paris).
However we can all say the best part so far hasn't been the monuments, or the food, or the funny pictures…the best part...... Mr Raine and Mr Mandin… with their hands on their hips…with 6 girls… In front of the Eiffel tower.
(We call it 'The Nadine'- and they ROCKED it)