A Shanghai Style Welcome from Gold Apple School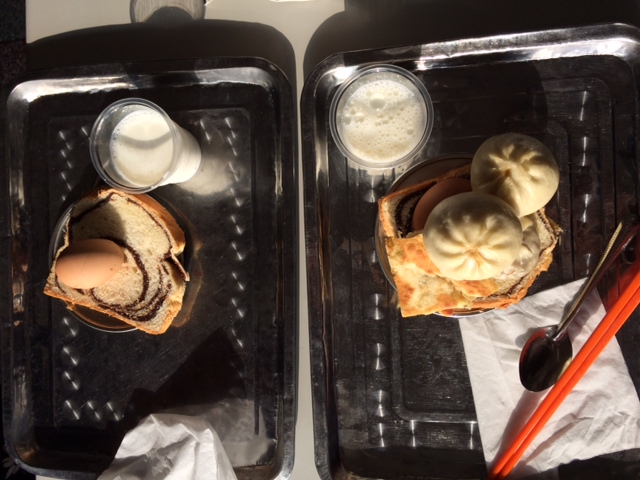 Some were easier to wake up today than others!
We had a good breakfast – I have attached a picture of the 'spot the difference' competition, Mr Barwise's breakfast compared to the norm…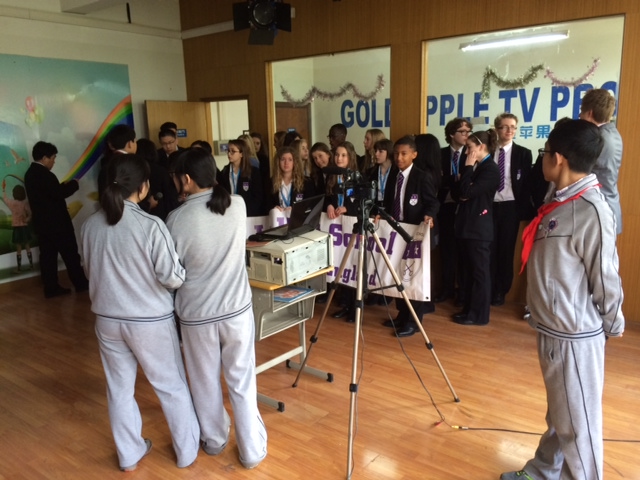 We had an early start today as we were officially welcomed to the school. This was broadcast live across the school and held in the school TV studio. We were warmly welcomed by the Dean of the International school, all the students introduced themselves in Chinese and after the welcome students and staff went to lessons. The students observed a wide range of lessons, including maths, mechanics, history and economics. It was very interesting to see how lessons are taught in Shanghai, there is an ever increasing focus upon students leading and teaching parts of the lesson. The staff saw a primary lesson (7year old students – English) and the whole class was led by students, the teacher just contributed the occasional correction of errors in spoken English. Our students were in lessons with their Chinese partner students who they are working with through the week, and for most, the students they are going on homestay with. Some some real friendships are developing.
After lunch we spent a good deal of time preparing for the sports festival taking place tomorrow. This year we will have 158 8-9 year old students in the festival. We followed this with the chance to watch an interform basketball tournament.
The highlight of the afternoon was making our own tea! The students made dumplings which were then cooked and served, the fact that along with these we also had some chicken nuggets and chips caused one or two to get highly excited! One even managed to produce a bottle of Heinz tomato ketchup that they had in their bag!
A final session to prepare for the festival this evening and then some time back in the dorm block, chatting and relaxing.
Tomorrow we have lessons in the morning and then the sports festival, so another busy day.
All are well and happy, the younger you are, it seems the sooner you recover from jetlag!
Best wishes,
Mr Barwise