Flag Raising, Sightseeing and a New Challenge!
I seem to start each update with the words…. Another busy day! Same today…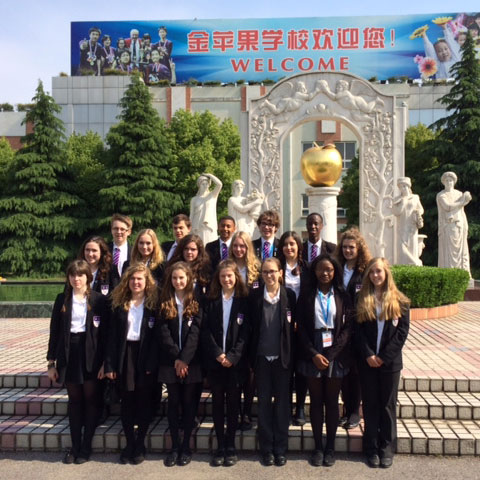 This morning was the flag raising ceremony. We were looking forward to taking part in this in front of the whole school on the field, unfortunately yesterday was wet and so the ground was deemed to be too wet underfoot and so this needed to be carried out in the TV studio. This is a very formal event, the principal of the school Mr Johnson Jiang and I gave speeches and presented school flags and gifts to highlight the partnership between the schools. The flag was held rather than raised and Tapiwa and Kimberley were tasked with this role. Charlotte was interviewed to give her opinion of the visit. All students were presented with certificates by Mr Jiang in recognition of their outstanding work over the week that we have been here. The ceremony was broadcast to all classes in the school, afterwards we had our formal photograph taken at the front of the school.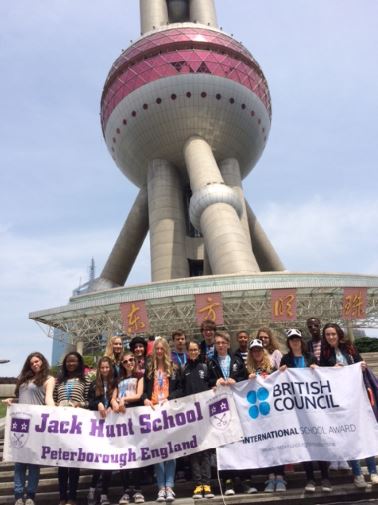 After a quick change of clothing we went out to see some of the sights of Shanghai. The first stop was the Pearl tower, this is always a highlight and the views from the top were outstanding, it was a beautiful day, no sign of the rain that we had had the previous day and so had great views out across the city. The glass floor was a hit with many; Miss Wilkins was not so keen but did brave it! It is amazing to look down and appreciate the size of shanghai, also the rate at which development happens, old buildings are soon cleared to make way for the new.
We had lunch in a restaurant and then headed to Yu Gardens; this is a very historical area of the city with the famous zigzag bridge. Students had the chance to wander around and buy some souvenirs. I think that the market was cleared out of waving cats and cuddly pandas! The students have got bartering down to a fine art and some good deals were struck! For the staff this is always a nervous time as the students explore and wander the small but busy area, however the students have always impressed us with their level of responsibility and all came back and checked in before the allotted time and then were back in good time for the final departure. Running such a trip is made much easier when we can have confidence in the students to be thoughtful and responsible.
With our array of headwear and as a small group we do attract attention, some are very subtle in taking photographs of us as we pass by and some more direct. Mr Crawley quite liked the role of film star as more and more people wanted a 'selfie' taken with him!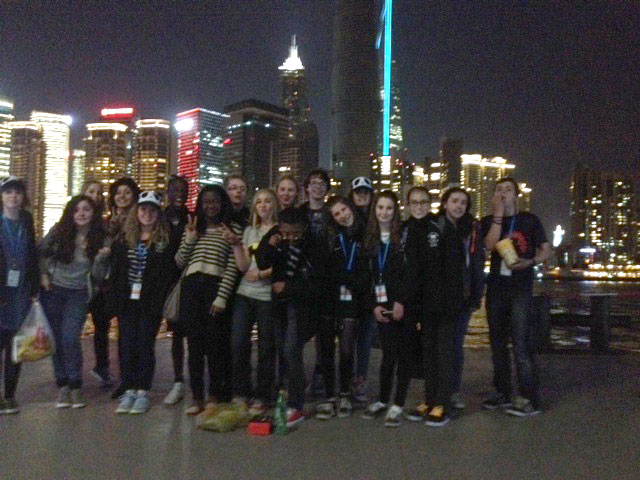 The final part of the day was a stroll along the bund, followed by a night time river cruise. The skyscrapers of Pudong are impressive by day, but when lit up and showing illuminated animations they are even more impressive, you will no doubt have several hundred photos of this to look at when your children come home and I am afraid that a picture can't really do it justice.
We had dinner at a restaurant close to the school and then walked back to the dorms, straight to bed as it was 10 pm, however we do get a (small) lie in – breakfast at 8 as opposed to 7 as was today.
We are visiting our 3rd partner school tomorrow and teaching dodge ball. We are getting to be quite professional at this now…
As is the norm in China good ideas can generate some interesting proposals! This afternoon, Eileen took a phone call, whilst we were out and about, from the Principal of the international department, who suggested that we should teach some lessons to students who may be thinking about opting for the Cambridge International Examinations GCSE course next year. This will be 45 students. No problem – after some discussion Miss Akhtar and I decided that we would team teach an English lesson! Then we were informed that it would be good if our students could also be in the lesson – a great asset and role model, so of course we thought that this would be a great idea. Makes a class of about 63, but that should be OK!.... We asked about the level of English of the Chinese students, a non-committal answer seems to suggest that it could range from anywhere between none and some! Oh and as it is an 'options class' the students' parents will also be coming to the lesson. We have left the school to find a suitable room for the lesson that will accommodate over 100 people and this evening have been busily planning! What could possibly go wrong!!!
Only 2 days to go now until we fly home, the time has flown by and we seem to have done so much! With plenty still to do…
Martin Barwise
Assistant Headteacher