More Bananas!
We have had an afternoon off…. Nearly!
Well perhaps just an hour, but it was much needed.
This morning we had our lie in so the alarm clocks were set for 7.20. However the loud music blaring for the early morning exercise class ensured that few slept much beyond 7! (Tomorrow we will be going to join the exercise class, so at least we know the tunes now!)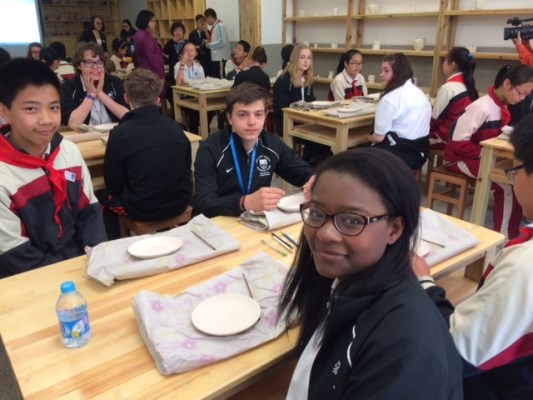 Our partnership with China now has 3 Chinese schools that we are linked with and today we visited the Pu Xing Middle school – this is a state school and is clearly very well-funded. Immaculate gardens, a state of the art pottery room and a very impressive 3G AstroTurf pitch. Speaking with Eileen it is clear that the amount of funding that the government is putting into Shanghai education is very high. We had a group assembly when we arrived and presented gifts to the school and received some in return – again slightly embarrassingly all our gifts were made in China! I had a red scarf tied around my neck, as worn by the older children in the school when they become members of communist party – clearly a reflection on how old I look! After the gift giving we went to the pottery and after a lesson on traditional pottery decorating. Each of our students was paired up with a Chinese student and they had their name translated into Chinese characters and we set to and decorated the plates, there are some real works of art, these are being fired this afternoon, and we hope that we can collect them tomorrow. Of course we ensured that each plate had made in China written on the base, but these are certainly unique items and will I hope make it home safely – you may wish to purchase a tube of superglue just in case!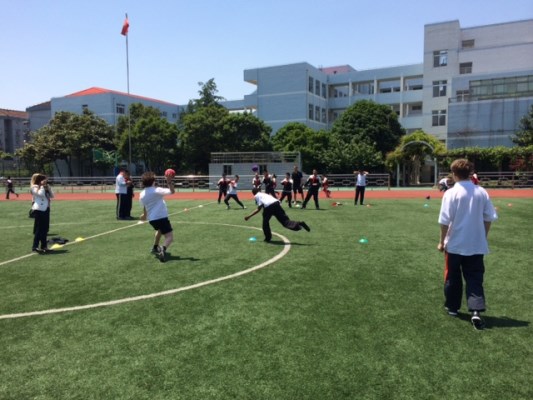 The second session was dodge ball – this time with just the 18 partner school students so the game was easily picked up and and we ran a mini-tournament. I am very glad to report in the inaugural UK vs China dodge ball championship – the UK won an outstanding victory for both the mens and ladies teams, the losers were very gracious in defeat and provided us with a fantastic lunch! We had the usual group photo with flags and banners before heading back to the Gold Apple school.
This afternoon was a little more relaxed for some – Mrs Akhtar taught an English lesson and Miss Wilkins taught a lesson on fair trade. Both were amazing lessons and very much appreciated by students, staff and the parents who came to watch. Though at one stage there may be a slight hiccup (literally) when Mrs Akhtar ate one of the bananas that were to be used for teaching resources later in the lesson! We had some students working in the English lesson to demonstrate to the Chinese students some of the key ideas and to lead the discussion if needed and they again showed great skills in working alongside the Gold Apple students. I will be teaching this lesson tomorrow so was pleased to see Mrs Akhtar model it so well, I am more in my comfort zone with maps and colours being a Geographer, but will enjoy the challenge of teaching English to so many tomorrow!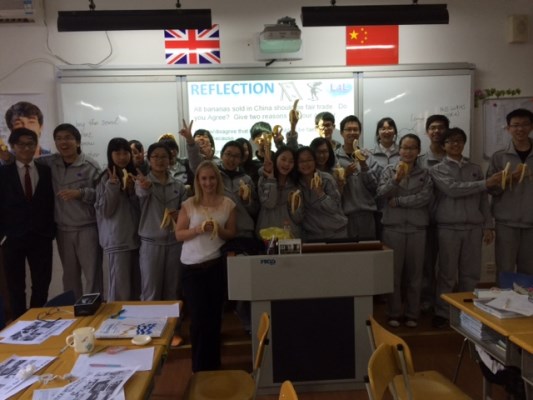 Tomorrow we have students working with a group studying for the Western Australian Certificate of Education; these are Chinese students who will ultimately go to University in Australia. We are teaching about English Culture. The end of the day will bring the farewell party.
We will also have the chance to have some meetings with the leadership team of the Gold Apple School to look at how the partnership can develop in the next year, and also prepare for the return visit. Patty Yu from the British Counsel is also coming to the Gold Apple School tomorrow to link with us over the support that they can offer to the partnership and have an update on all the work that we have done this time.
One full day to go, then flying home the following day. We have some tired students, highlighted by the fact that one took their pillow onto the bus for the journey to Pu Xing School this morning!
Martin Barwise
Assistant Headteacher