A Beautiful Day to See The Sights of Paris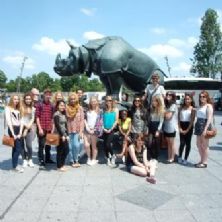 Today was such a beautiful day! The sun shone all day and we made the most of the excellent weather.
We left the hostel around nine after a good breakfast. A short journey on the Métro took us to the heart of the city, just outside the Opéra Garnier. A short walk led us to the Place Vendome where the world famous jewellers have their exclusive boutiques. The price tags were enough to stop our most shopoholic teenagers and we moved swiftly on to the Place de la concorde for our first glance of the Eiffel tower. It took us several minutes to cross the river Seine to reach the left bank where the Musée d'Orsay is. We spent the rest of the morning there, drawing, sketching for our artists and starting our trip diary for our linguists. We went to the the Carousel du Louvres for lunch and a spot of shopping. More walking, sketching and writing after lunch at the Palais Royal, our students deserved a break and we went to The Halles for some more reasonably priced shops. We had booked a table at a little crêperie just behind the Centre Pompidou for dinner. It was then back to the métro and back to the hostel for a very well deserved rest before another busy day tomorrow at Versailles.
Au revoir et à demain!