Hot, hot, hot... French summer's here for sure!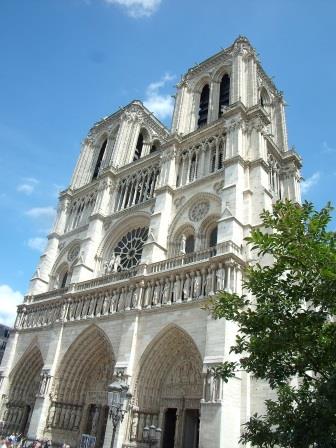 We went to the Musée de l'Orangerie in the morning where we saw Monnet's very impressive Water Lillies. Art students did a lot of work in the gallery as they sketched and copied some of the paintings around. French students took this opportunity to revise colours and descriptive language as they chose a painting to describe.
Lunch was a relaxed affair in the Jardin des Tuileries. After eating, we went to the Ile de la Cité to see Notre Dame. The queues to climb up the towers were too long so we decided to go to Montmartre instead. So off we went to climb the hill leading to the Sacré Coeur and after a gentle stroll around the Place du Tertre (the artist quarter) and a crêpe or a drink, we made our way back to the hostel for a well earned rest.
Dinner was as relaxed as lunch and we ordered some pizzas and went to the Parc de la Vilette to eat them. It seemed that all the locals had the same idea as us as the park was full of families having picnics and relaxing on the grass.