Dodgeball, Relaxing Lesson Starters and a Hair Raising End to the Day!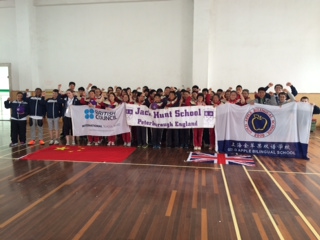 Good Morning/Afternoon/Evening.......
So, Tuesday started with a bit of a lie in, breakfast wasn't until 7.30. It seems as if everyone has now become accustomed to a cold fried egg, meat dumpling, deep fried bread, a piece of raisin loaf and a cup of warm milk.
The weather this morning was unseasonably cold, wet and windy, which didn't make for good news as we were due to be leading a dodgeball festival, which last year was outside.

The morning began with a short bus ride to Pu Xing middle school where we were going to spend the day. As is becoming quite normal now, Mr BARWISE continues to try to take sleepy selfies with everyone when we are using some form of transport.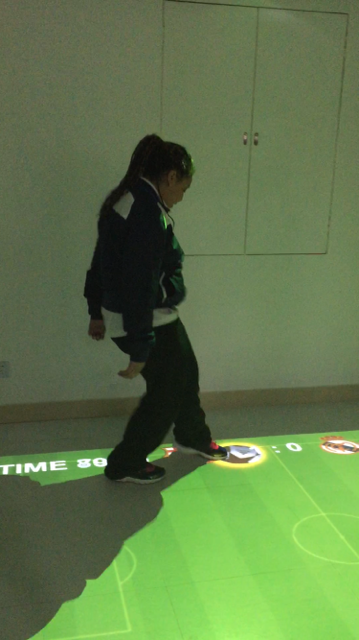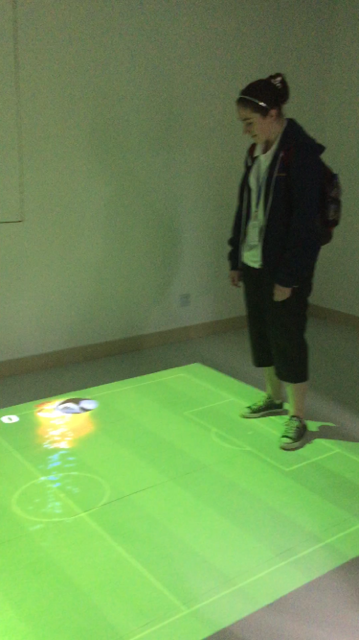 We were greeted at the school by the headmaster and deputy who had visited Jack Hunt school in July last year and was excited to see everyone again. A formal welcome with the headteacher was followed by a tour of their onsite science and technology museum. On display was a range of students technology projects including various interactive displays. See Jess and Eugenie playing virtual football against each other.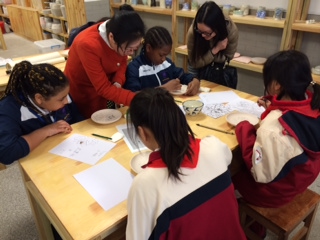 Pu Xing Middle school is renowned for its ceramics classes, and this was our next activity. Students took part in a creative session, where they chatted too and mixed with students from the school who helped them design patterns and translate their names into Mandarin characters to then paint on their plates. No broken ones this year!!!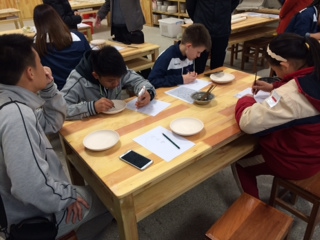 Lunch was served, which again was a fantastic mix of various cuisines and outrageously large portions, which Mr Barwise is enjoying. Lunch consisted of rice, tomato and chicken, pumpkin, onion, cabbage and mushrooms, deep fried chicken pieces and egg and mushroom soup. Just your standard Tuesday lunch. Once lunch was done, it was then onto teaching a dodgeball session to 40 children. After finalising the planning with the Gold Apple School student union yesterday, this was the first opportunity for our students to showcase their leadership skills. It was time for Omar, Will, James, Rhys and Eugenie to step up to the plate, overseen by Jess and Freddie. The students organized the students into 4 groups and led them on a 'Stuck in the Mud' warm up, followed by some dodgeball skills and practices. It didn't take long before the entire class were all running around trying to tag each other, then throwing balls as hard as they could at each other! Once all students had some understanding of the game Jess and Freddie organised a small tournament for the 4 teams. All teams played each other, ably organised and cheered on by their English team leader. To close the tournament, Jess gave a thank you speech and awarded gifts and prizes to everyone. A great success!!!!
The festival was followed by a 'Chinese traditional skills' activity 'dou kongzhu'. I was a bit unsure what we were letting ourselves into................ What a treat!!!! The Pu Xing School arrange for retired residents to come into school and run traditional activities. Today was 'Diablo', this was incredible to see, the elderly gents were showing off their tricks and the class of 40 students weren't too bad either............ It was then our turn, well the students seemed to pick it up quite quickly, and keen to show us their tricks. Us on the other hand, not quite so. (We have some great video footage!) and 5 Diablo's to bring back to school with us.
The final session of the day was to observe an English lesson being taught. One thing that our students found interesting here was, at the start of every lesson the students have to go through a relaxation series of face exercises. This relaxed some of our students so much they actually dropped off. Not sure we'll be introducing this at Jack Hunt.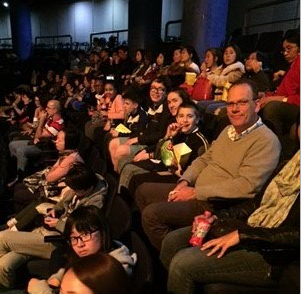 We returned back to the Gold Apple school for a quick change of clothes and a quick bite to eat before jumping back on the bus and heading into Downtown for the ERA Circus act. What a spectacle to end another busy day, from balancing acts, to trampolining, to Gymnastics, and Parkour. And when we talk about balancing acts and gymnastics its nothing like what the students have seen today. I'm sure they will tell you all about it. Especially the finale, where up to 8 motor cycles race around a large steel cage at hair raising speeds.
The students are all tucked up in bed and shattered after another full on day. It doesn't stop there as tomorrow they are heading to the migrant worker school to lead English and Dodgeball sessions, before returning to the Gold Apple School to lead over 80 students in a Multi Skills Sports Festival.
Mr Smith.