Last Evening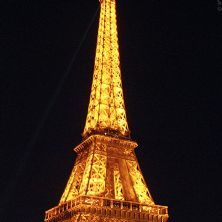 The last evening is certainly one to remember!
After some misunderstanding, we eventually managed to find our restaurant. Dinner was good and everybody relaxed for the last evening. We then made our way to the Métro for one of the last times. A few changes later, we got to the Eiffel tower which looked amazing all lit up. Our river cruise was starting just under the world famous landmark so we made our way to get our tickets. We got on the last cruise of the day. Everybody was very excited about it. We left the quay at 11.00 just as the Tower started to shimmer. We saw all the main landmarks lit up and it was a good reminder of all the amazing buildings we had seen during the week.
We went back to our hostel at the end of the cruise one hour later; this was a late night but we all agreed that it was a fantastic last evening to end a fantastic week!