Riding for Ryder - June 2015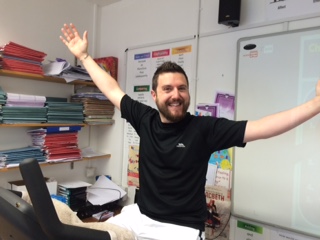 Follow Mr Ward's sponsored cycle ride attempt.....Can he make it through the whole day on his exercise bike?
He started at 7:05 this morning and will be trying to make it all the way to the end of the school day, teaching while he rides.
If you would like to support him raising money for Sue Ryder Thorpe Hall Hospice click here
He's done it!!

Posted: 26/06/15

What a hero!!

The Final Countdown!

Posted: 26/06/15

We're nearly done!

Mr Ward's burning hot legs

Posted: 26/06/15

Mr Ward has been cycling for nearly 5 hours now! His "wardettes" (thanks to Madiah in NJPE and CDWD tutees Michael, Aminah, Aisha) were out in force at breaktime selling cakes, sweets and drinks to the masses...and he has now raised over £430 for Sue Ryder! He has burned over 1500 calories and cycled the equivalent of 43.3 miles. Year 7 are about to arrive...

Two and a half hours in the students have arrived!

Posted: 26/06/15

Mr Ward began cycling at 7.05 this morning and is still going strong after 2 hours and 40 minutes. So far he's had two breakfasts and had a visit from the baby chicks but now the real work begins as he attempts to teach his year 9s whilst continuing to cycle.
News Feeds
You can subscribe to a feed of the latest blog items, using the link below. Subscribing to this news feed is free and will keep you upto date with the latest blog stories that have been posted. You can view more information about how establishments like the BBC use RSS feeds for their content.
To subscribe to this feed simply right-click on the link below, click "copy shortcut" and then paste the URL into your feed reader software.