Day 8 - Sports Festival Day!
Today was our final full day at the Gold Apple School as Wednesday and Thursday are both days for sightseeing. The 6.30am wake-up call this morning was the most challenging so far, with 13 students absolutely 'Zonked' out. Mr Smith found that playing loud music into their rooms slowly encouraged them to wake up, while Mrs Wheatley nearly had to knock the girls door down before they heard her.
It was down to breakfast, which had a new, interesting green flat cake rolled in sesame seed, filled with something??? The students came back to their dorms to tidy their rooms and began to think about packing some of their clothes that are thrown around their bed rooms.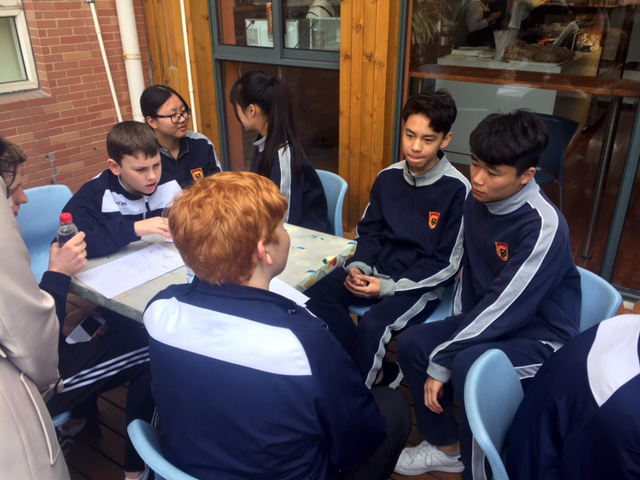 The students and Mr Smith worked with the Gold Apple student union, to plan and prepare for the sports festival that was taking place this afternoon. While Mr Barwise led a presentation to parents about the Cambridge IGCSE and A Level curriculum, with a view to students in the future attending university in the UK. Mrs Wheatley taught an English lesson to a grade 2 class (5/6 years old) ably assisted by Alfie and Will who acted as her teaching assistants. Both the Gold Apple and the Jack Hunt Students worked quickly and extremely well together in order to plan everything ready for the 60 primary students that they would be teaching this afternoon.
Lunch today, students had the opportunity to sample a range of traditional Chinese dishes from the extensive school canteen, however the most popular choice was spaghetti & Pomodoro sauce, with chicken popcorn. A real Chinese delicacy!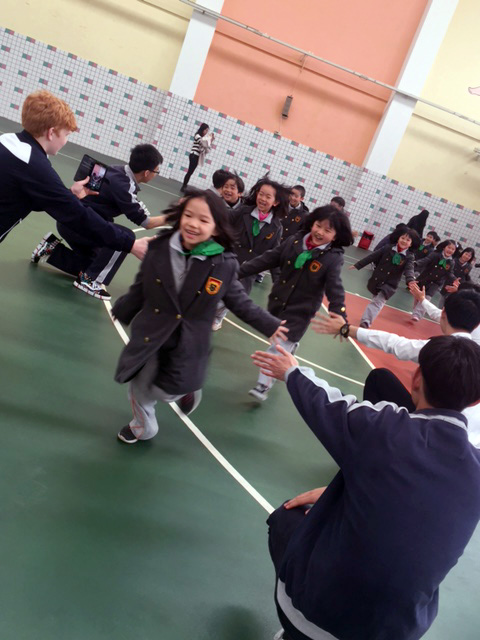 This afternoon the students took charge, they worked brilliantly with the Gold Apple School students and set up, organised and ran the sports festival, leading 60 primary students in a range of activities. I think you'll see from the photos just how much the students enjoyed taking part in what is becoming one of the highlights of the visit. As staff, we were saying just how little we had to do in the organising and running of the festival. It was pretty much entirely students leading students, which was fantastic to see as we value the benefits of student leadership so highly. 'Bulldog' was a particular favourite of the Chinese students and at times became a game of rugby……
This evening the students made their own tea, cooking dumplings. What else would you put with dumplings….. fries and popcorn chicken of course. Quite a strange combination but the students seemed to enjoy it. While we were enjoying our evening meal and a friendly game of football, spare a thought for Mr Barwise who led some staff training on classroom and behaviour management. This was due to be to 20 members of staff, but we know how quickly things change or get lost in translation, this soon turned into 40 members of staff. Following on from this he then had an evening meeting and meal with the Director of International Cooperation and Development for the Pu Dong Education bureau to discuss various projects and partnership opportunities, it is clear that the 10 year relationship between Jack Hunt and the Gold Apple School is held in very high regard here, and is one of the most long standing links.
Although a relatively quiet day in school the students have worked together really well and hopefully feel a little refreshed before our last two action packed days in China. Tomorrow we make the 2 hour Journey to Suzhou where we are visiting Suzhou's historic gardens . Thursday is then a visit to Disneyland Shanghai before our farewell party Thursday evening.