Day 9 Suzhou
After a busy few days in schools today was a day to get out and about and see some more of China! We had breakfast and then in Chinese style had the students running a lap of the athletics track before they got on the bus and we headed to Suzhou. This is a very ancient 'small town' (only 6 million people!) in Jiangsu Province. Driving for two hours we never really seemed to get out of built up urban areas. The journey was peaceful, with our early start - getting up at 6 am, most fell asleep soon after getting on the coach! We seem to have now reached the stage that any opportunity to sleep is taken!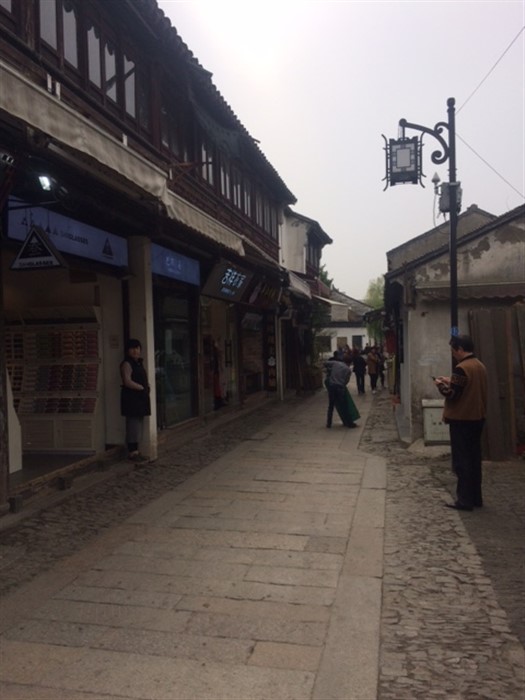 Arriving in Suzhou we parked up and walked through one of the ancient streets along a small waterway, despite the small shops and the air con units on the buildings it did have a feel of old China. The tranquillity spoiled somewhat by the noise of constant hooters from scooters as they squeeze down the narrow streets. With their natural homing instinct the students sought out the donut and ice-cream shops! As we wandered the streets it really began to dawn on some of our year 10 (and third time) China exchange students that this will be their last trip, I think that there will be some sad farewells, however one of the students said that he thinks he has invited about 12 Chinese friends to come and stay with him in the summer – I won't say who…. but if you have any spare camp beds or inflatable mattresses please can you have them delivered to The Ralfs household!!!
Next we walked to one of the newer shopping streets, the students looked in a few shops and made some last minute waving cat purchases before we went to lunch in a Japanese ramen noodle restaurant. Delicious food was served. Mr Smith went for the extra spicy seafood Tom Yong Goog – on his second mouthful he started to make strange noises and his eyes were watering, I thought that it must be the extra chilli and was about to reach for my phone to take a quick photo of him when he choked up a squid tentacle! Mental note Heimlich manoeuvre first, photo second!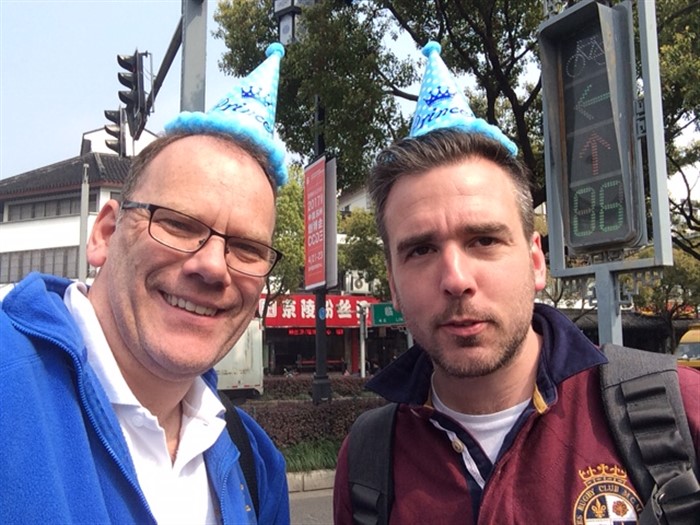 We needed to walk through the bustling city and were concerned that in the crowds the students wouldn't know where Mr Smith and I were, luckily we found a coffee shop that had party hats for sale, so we purchased 2 and donned these, the students were so grateful that they could spot us, and all wanted to walk with us to appreciate the complimentary comments that were being passed about our new headwear.
Next stop was to one of the ancient gardens and homes that Suzhou is famous for, we went to the Lion Forest Garden, where in traditional ancient Chinese style the gardens are made to look like various landscapes in miniature. The highlight was a warren/maze of caves and rocks, we all manged to get through and only needed to go back and hunt down 2 students! All too soon it was time to get back on the bus and head back to school, and another quick nap!
Dinner in the canteen and now planning a quick final trip to the supermarket. Tomorrow is our last day, not sure where the time has gone, we are off to Disneyland tomorrow!