Day Eight - Pu Guang and Zhujiajiao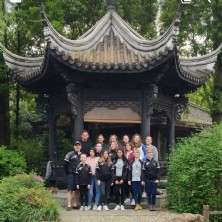 After all the rain yesterday and throughout the night we woke up to much cooler temperatures.
After all the rain yesterday and throughout the night we woke up to much cooler temperatures. Students were up again nice and early and we headed over to breakfast at around 7.25 as we needed to be leaving school for 8 o'clock to make the journey over to Pu Guang school (the migrant worker school) to deliver our English and Dodgeball lessons. Breakfast consisted of some egg, sweet buns, fried dumplings, bread and milk (a vast amount of cereal bars have been consumed as well over the past few weeks at breakfast). Most students gave it a good go, after which we headed back up to the rooms to collect the last few bits before departing. I managed to lock myself out of my room for the second day running (tiredness is starting to show), luckily I had got all the sports equipment out before breakfast so it didn't affect our plans at all.
On the way to Pu Guang we discussed some alternatives to dodgeball, as mentioned previously the rain yesterday and overnight was torrential and the courts at the Gold Apple were pretty much flooded. Dodgeballs when wet unfortunately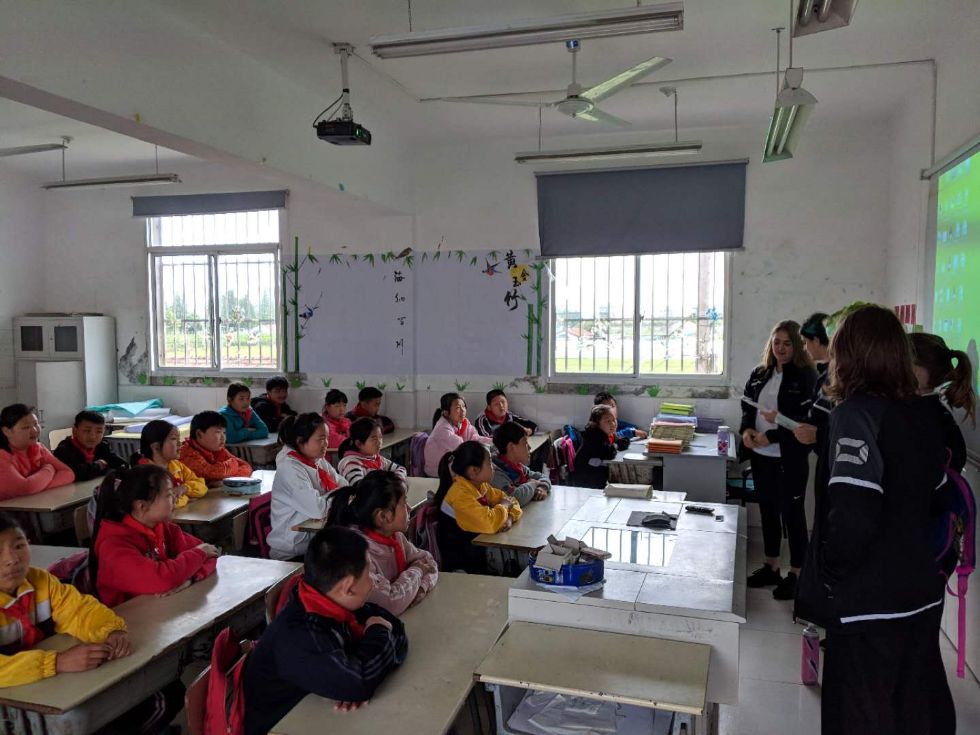 get very heavy and 80 little Chinese students with no English running around basically throwing stones at each other was not going to be a good idea. We hatched a plan to play lots of warm up games like stuck in the mud, chain tag, domes and discs along with a bit of head shoulders knees and toes. We decided that we would need to make a judgement call on arrival. The journey was very stop start as it was rush hour however some still took the opportunity to catch up on some more sleep (Mr Barwise and Miss Shirley included). We arrived to Pu Guang around 9am.
On arrival we have to get off the bus a few 100m's from the school as it couldn't fit down the narrow streets surrounding the school. This is a very different area to what the students are used to, a lot more industrial, no high rise buildings and certainly a bit of an eye opener for staff and students alike. Students at Pu Guang are from Anhui province, 300 miles or so to the west of Shanghai. When parents move for work mainly in factories etc. their sons/daughters are not allowed to attend Shanghai schools and also the Shanghai government do not fund schooling. It is left up to Anhui province, the factories the parents move to work for and charities to fund the school. We soon made our way up to the gates and met up with the principal and were quickly shown to the classrooms full of excited students. The principal mentioned that most of the students who were Grade 5 were actually taught by Jack Hunt Students 2 years ago. Both classes had around 35-40 students in and very amusingly the normal teachers thought this was perfect timing for a bit of a coffee break and quickly disappeared off as soon as we arrived.
We started with this English lesson which was our adapted superman song, we had split the group in 2 and had 6-7 leaders at the front of each classroom with Mr Barwise in one and Miss Shirley in the other, I was moving between the two. Essentially we threw the students in at the deep end, put them in front of a large group of non-English speaking students and said off you go…….. A recipe for disaster one might think!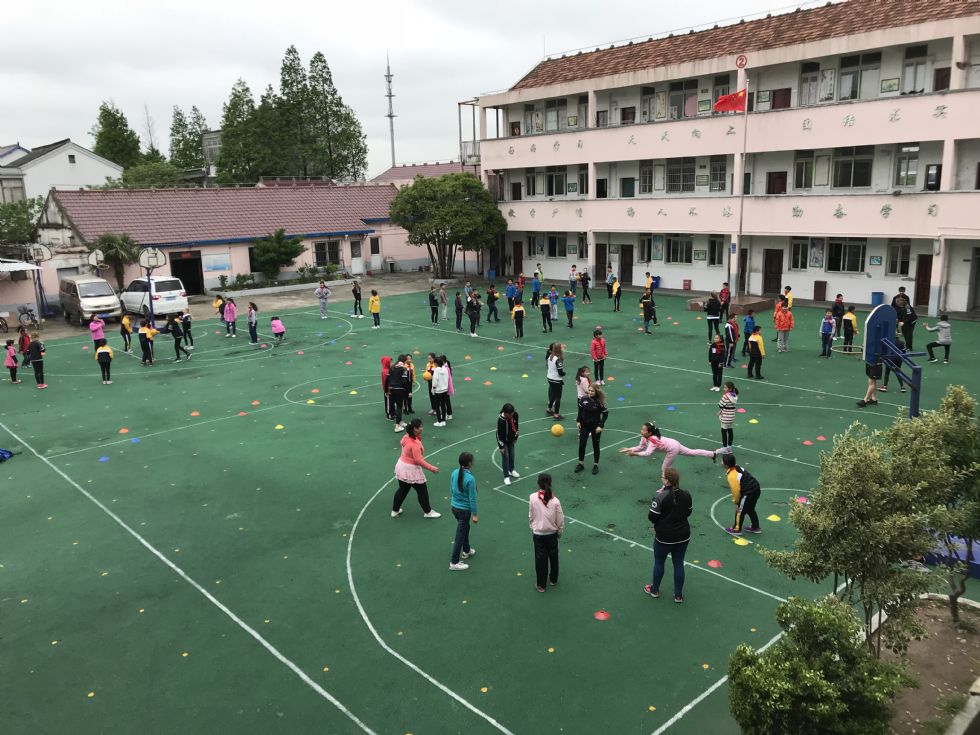 After a quick 2 second rabbit in headlights moment the leadership qualities of the Jack Hunt students kicked in and they started what turned out to be two fantastic lessons! Chinese students were up and out of their seats singing and repeating back to the Jack Hunt students the song line by line, gradually making it more difficult. With very little teacher input students were then leading competitions of boys vs girls, getting them to sing the song fast, loud, slow and even getting the Chinese students to teach it back to the Jack Hunt Students in Chinese. This is my first visit to China and I was completely astounded by the whole experience of being in Pu Guang School today, I can certainly say it's one of the best things I have ever done in teaching (and I didn't even do a lot it was all down to the students). While the students were finishing up their English teaching with the old faithful…. Heads, shoulders, knees and toes I headed down to the courts to set up for some dodgeball, I informed Mr Barwise where I was off to and he said "ok" with a little smirk. Off I went.
On arrival to the school I checked the courts straight away and dodgeball had the greenlight which was brilliant as students always love the game. I was happily putting out cones on my own for 4 groups so students could lead their warm up and dodgeball throwing activities, then came the bell to signal the end of the lesson. Suddenly about 70-80 students from other classes around the school came running out on to the courts, almost instantly I turned into the pied piper with students following me everywhere I went and even helping me put back some of the cones that were blowing away in the wind, I could see Mr Barwise up on the balcony laughing and thought back to the little smirk from earlier. Then all of a sudden out of nowhere more students came out of classrooms, this time the youngest students in the school (maybe a crèche). They thought the 4 immaculate grids I had put out were perfect, so perfect in fact they proceeded to run around and collect virtually every cone I had put out. This is when I turned around to see Mr Barwise this time laughing his head off, again I thought back to the smirk from earlier, cheers Sir. If you can't beat them…. Join them, so we then started to play with the little ones picking up cones, putting them on their heads, taking selfies and just having a bit of a laugh. Another bell went and they toddled off leaving carnage in their wake. I just had to stand and laugh about what had just happened.
Then our students brought out the Grade 5 Pu Guang students for the dodgeball, I quickly hurried round to sort the cones out. What was great to see this time, was rather than having the three leadership groups we had been using for previous activities, we had to split the group into four which meant smaller groups and they all really stepped up. Each class was split boys and girls and then 3 or 4 of our students were leading around 20 of the Chines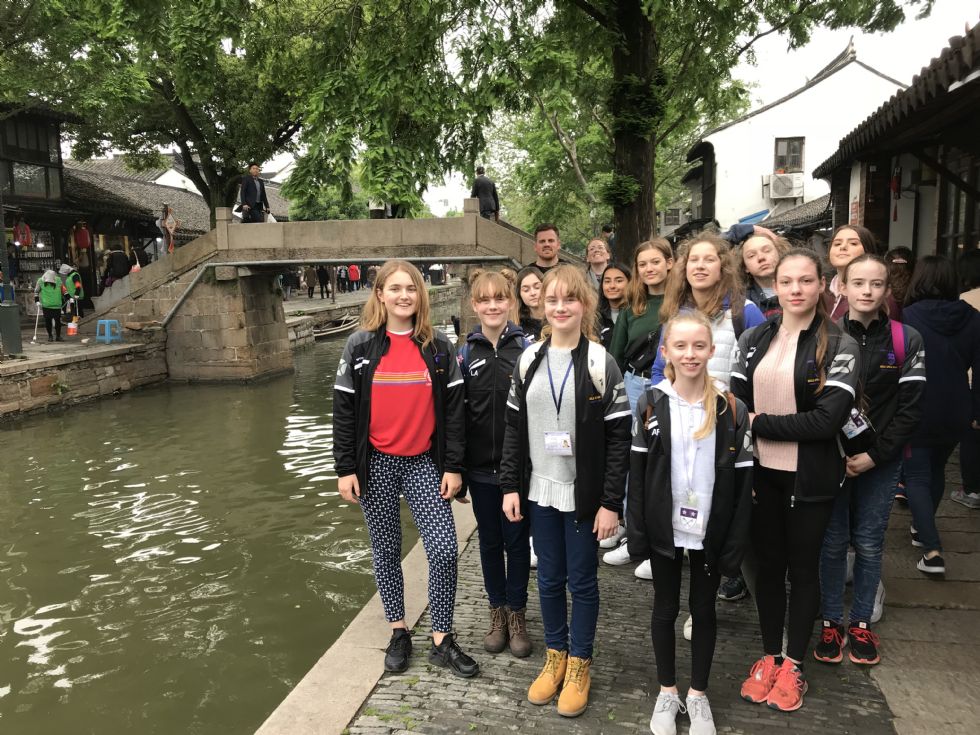 e students. It's hard to get across just how hard it is teaching people who can barely understand a word of what you're saying but that's where sport is just amazing, if it's done correctly language is not a barrier at all. Students quickly started their warm up games giving very over the top demo's which is exactly what was needed, we had stuck in the mud, tag and chain tag all on the go at once, it was fantastic just to stand back and watch. Next they took a group of students each, all 13 of ours were leading their own little groups, nowhere to hide (not that they have been doing in previous leading opportunities). They worked on some basic throwing and catching in preparation for the dodgeball games to come.
It was great to see that as teachers we really weren't involved at all, Mr Barwise was joining in, I was walking round giving a few pointers here and there, while also joining in and Miss Shirley was keeping the security guards son busy playing catch, he must have been about 3 and thought it was funny to walk straight through the middle of the games (he was also one of the ones picking up my cones earlier). Next up we had some small dodgeball games around 10v10, we played very basic rules and got the students active with huge smiles on their faces which is what it is all about. We then moved on to bigger games so the girls from one class were playing against the girls from the other and the same for the boys (around 20 v 20 on each court), by now we could see these students had worked with Jack Hunt students previously as they knew exactly where to stand to start games and knew about getting out if you were hit during the game etc. It was 15 minutes of structured chaos but it was absolutely brilliant. The Chinese students were just having the best time, our students were joining in helping, giving pointers, umpiring and just being fantastic leaders and ambassadors for the school. The Chinese students competitive side was certainly now coming out with some disgruntled players very annoyed that people were not going out when they were hit, on the girls game we had Chinese students who were already out chanting for their class to win, it was great to just stand and watch. If I'm honest the rules of dodgeball were not strictly followed but that's not the point! Every Chinese student, Jack Hunt leader and Jack Hunt teacher were just having a really good time and that's what I think is the point, while developing English language, leadership and teamwork as well.
After a few pictures we headed back up to the classrooms and finished with another quick rendition of heads, shoulder, knees and toes and gave the Chinese students their gifts which was a sliding puzzle with the Jack Hunt Logo which they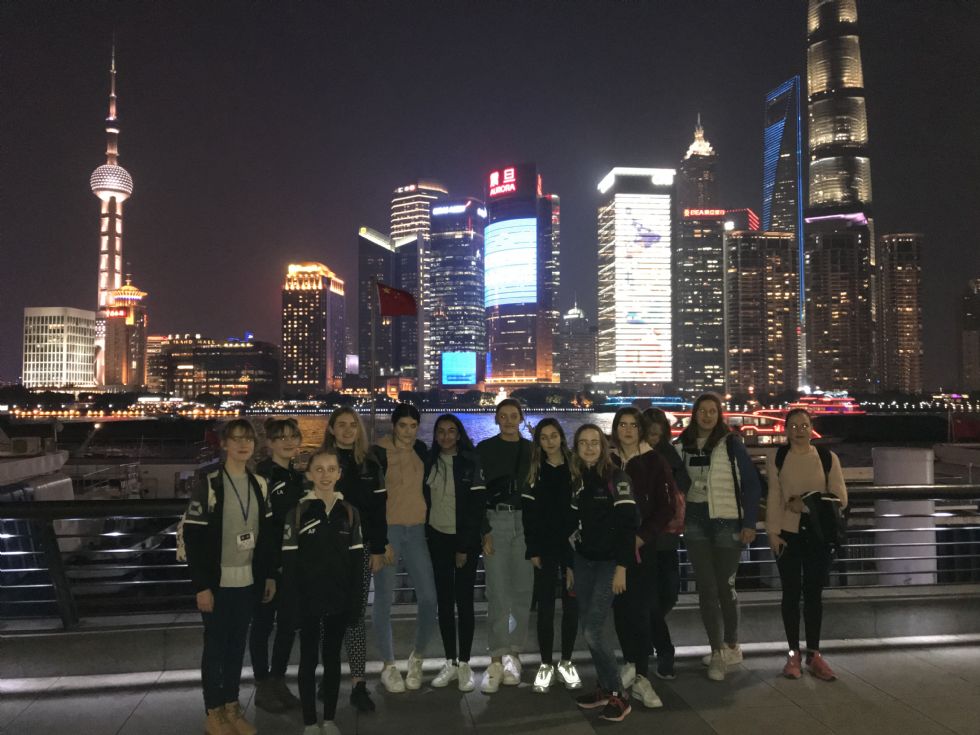 seemed to really like. We said our final goodbyes and Mr Barwise gave the principal some lovely gifts we had brought over from England. The bus then took us back to school for an early lunch as we were off sightseeing all afternoon, on arrival students had a quick change of clothes and then headed over to the canteen. Just like yesterday we are now having lunch in our own little private room and again the food was lovely and students went up to collect food a number of times as we would not be having dinner until a little later.
I will now hand over to Mr Barwise.
After lunch we boarded the bus for the trip to Zhujiajiao. This is a historic Watertown and a chance for the students to see what China would have been like at the start of the last century. It was a long trip due to the amount of traffic and was a good way across Shanghai, you really gain an appreciation of the size of the city as you drive for 2 hours across it and still within high-rise housing developments!
As is usual at this stage of the trip, any time on a coach is a chance for a power nap, and students took full advantage of the two hour journey. The driver kept us entertained by his vast repertoire of ways to clear his throat before spiting. This was a very common sound when I first visited China in 1990, all around the streets, but after a government campaign has reduced greatly.
On arrival at Zhujiajiao we wandered the streets looking at some of the amazing foods on offer, a speciality of this area is pork with sticky rice wrapped in a leaf and steamed. The smells of food was amazing. With all that cooking there is clearly a lot of fat and we managed to arrive on the day when the drains were having their 'fat-bergs' removed, again adding another aroma to the air. The small shops have been set up in old traditional buildings, small boats, now full of tourists ply the canals and waterways and several low pitched stone bridges span the water. We ambled through the streets and by pure chance ended up at a coffee shop! Students brought all manner of drinks and snacks before heading back to the shops to buy a few more gifts and souvenirs. Their bartering skills have come on well, and as they all descend on a shop, the shopkeeper realised that there could be a good many sales and so prices are lowered further still. As the unofficial tour guide bring a group to a shop today, I was awarded a free fan! The final stop was to visit one of the very large houses and gardens (Kehzi Gardens), owned by a very wealthy merchant around 1912 the house sprawls over many acres with small lakes, pavilions and stone corridors through magnificent gardens. The Chinese appreciated the beauty of the natural landscapes so large stones are place to replicate mountains. A small zig-zag bridge crossed a stream zig-zagged to ensure that you could escape if chased by evil spirits. Wandering back through the gardens and sitting in pavilions it was good to relax and enjoy some peace and quiet… the students soon caught up with us though and so we headed back to the coach.
With lighter traffic the journey back into Shanghai was a little quicker, but again many sleepy heads on the way. Students awoke somewhat disorientated at times, the best comment being 'I've lost my foot, I can't find it in my shoe!', soon reassured that they did have a foot, it was on the end of their leg, but had fallen asleep and gone numb, calm returned.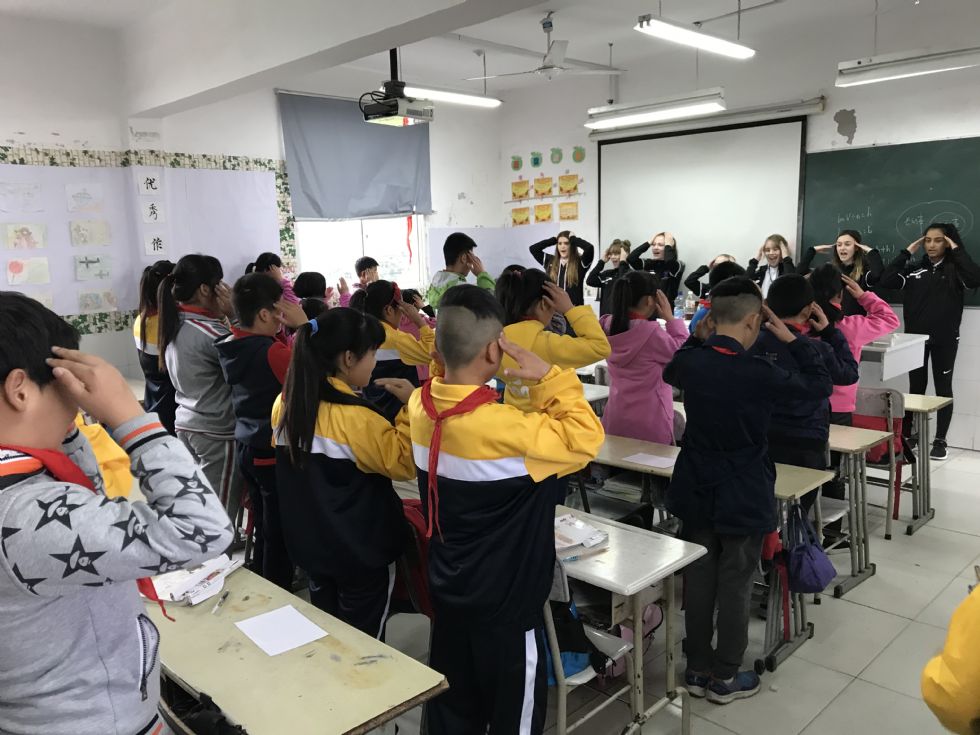 For dinner we offered the choice of restaurant to the students, hoping for some traditional Chinese fare, would it be hotpot? Perhaps some spicy Sichuan dishes? Stinky Tofu? Or some of the magnificent noodle soups from the north of China? Soon we were all tucking into some very traditional Big Macs, McNuggets, cheese burgers, fries and ice cream!
After dinner it was time for a walk from Yu Gardens back to the Pu Xi Bund. There is a wonderful walkway along the riverside which used to be the old harbour, the magnificent old British and French buildings, banks and customs houses, face across the water the bright lights of downtown Pu Dong. In between the mighty Huang Pu river. We strolled along the Bund taking in the magnificent view. The area was very busy with tourists and as we posed for group shots we become as much of an attraction as the view.
From the Bund we walked to one of the many piers where we had quite a long wait in a very large queue to board our boat. We didn't manage to fit in a river cruise last year, so were glad that we found the time to do it this year, the large and well lit boat slowly travelled up and down the river allowing us to get a fantastic view of both sides of the river, being dark the bright lights of Pu Dong's skyscrapers and the Oriental Pearl tower were stunning. Large numbers of photos and selfies were taken. As the upper deck cleared the students even managed to choreograph a dance routine that Mr Cooke joined in with – definitely have him down for teaching the Dance element of PE next year! Watching his moves I was reminded of Riverdance, just without the skill and much great arm use.
All too soon we were back at the pier, a quick walk to find the coach, a quick 25 minute journey back to school and most of the students managed to drop off to sleep again! They are shattered! This has been a really busy and exciting day and a long day, we got back to school at around 10.30 and they headed straight to bed and now are all fast asleep(ish)!
Once again we have been so impressed by the students, when there is any waiting time, such as in queues or waiting to get to the ticket hall today, they get on, chat and enjoy each other's company. They look out for and support each other if they are feeling tired or missing home. They work so well as a team, in some challenging leadership activities, and I know that I have said this before, but very good company.
After today's success at Pu Guang, we are heading to Pu Xing to be teaching dodgeball, we will also be doing some pottery at the school and then seeing some of the sights in the artist quarter near the school.