Paralympian Inspires at Sports Awards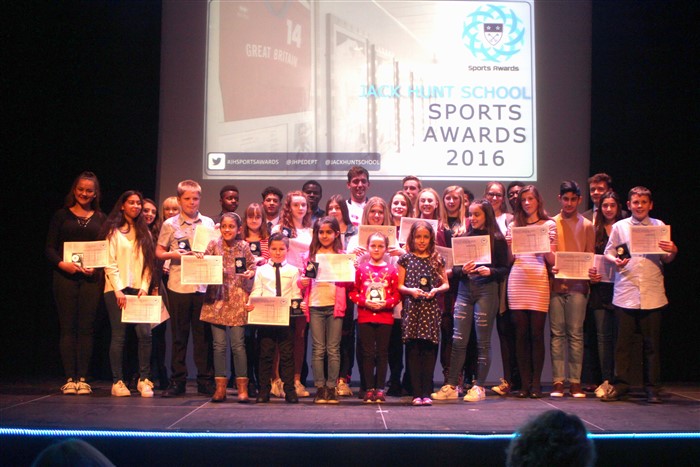 Our Annual Sports Awards Evening held on Thursday 17 November celebrates a fantastic year of sport, showcasing the many achievements of students from year 4 to year 13. Jack Hunt staff and students were delighted to be joined by members of our partner primary schools, who had also nominated students who had excelled in sport this year.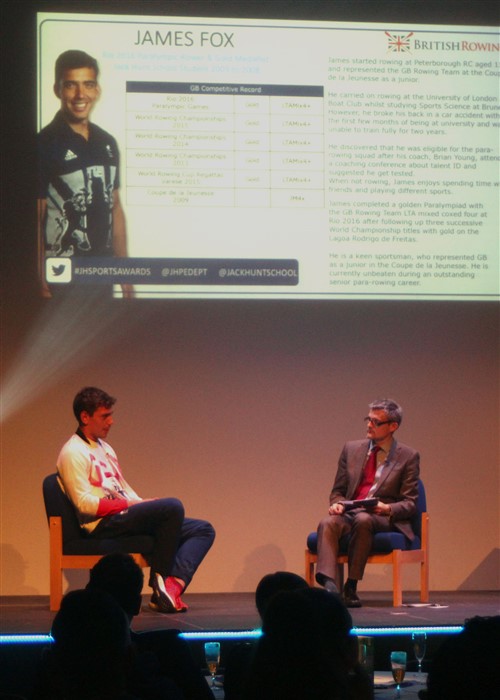 We had a very special guest, former Thorpe Primary and Jack Hunt School student and current Para Rowing Paralympics Gold Medallist James Fox. James was part of the mixed 4 para rowing team who won gold at Rio 2016. James completed a golden Paralympiad with the GB Rowing Team LTA mixed coxed four at Rio 2016 after following up three successive World Championship titles with gold on the Lagoa Rodrigo de Freitas.
He is a keen sportsman, who has represented GB rowing throughout most of his rowing career. He is currently unbeaten during an outstanding senior para-rowing career.
Two of the schools most prestigious awards – The Linda Dingle Award for Best Higher Sports Leader was won by Joshua Bookal and Zineb Azoui for their outstanding leadership work both within Jack Hunt School and the partner primary schools.
The Best Sports Person in the Junior Athlete Education (JAE) Programme was won by Jaskaran Singh. Jaskaran only started playing cricket 4 years ago. He has since gone on to compete at county level and recently toured Australia.
Assistant Headteacher Chris Game said "The evening was extremely successful and a huge well done to all the category winners and students who received commendations. Having Paralympic Champion and ex-student James Fox attending was really inspiring. I am sure his motivation and dedication will encourage our athletes to keep working hard to achieve their own sporting and personal goals.

Award Category

Student Nomination

Best Sports Person in GCSE PE

Tom Nash

Best Sports Person in BTEC Sport

Harvin Jassar

Best Sport Person in A Level PE

Charlie Galogolly

Best Performance in BTEC Dance

Simona Eidukonyte

Most improved Sports Person in KS3

Jordan Nevin

Freya Irvine

Most Improved Sports Person in KS4

Rolanda

Best Junior Leader

Josh Clarke

Sophie Foreman

Isabella McCully

Praise Banhire

Best Community Leader
(Linda Dingle Award)

Josh Bookal

Zineb Azoui

Best Dance Leader

Mariella Ciniero

Highest Attendance at
extra curricular activities KS3

Jake Lawless

Highest Attendance at
extra curricular activities KS4

Jahnzeb Khan

Best JAE Student

Jaskaran Singh

Best Boys Team

Year10 Athletics Team

Best Girls Team

Year 10 Netball/Athletics/Rounders