NEW! - SUMMER TENNIS CLUB SESSIONS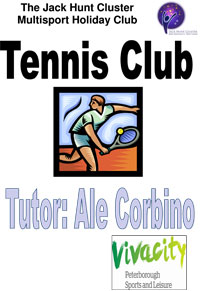 We are pleased to announce NEW tennis club sessions during the summer holidays for children aged 7 to 19 years old.
Sessions begin on Thursday 11 August 2011 and run for five weeks to Thursday 8 September 2011 from 4.30pm to 6.30pm
The cost is just £4 per session or £15 for all five weeks.
Click the thumbnail on the left for full information and an enrolment form.
To book a place complete and return the enrolment form to Maureen Stringer at Jack Hunt School