NEW Family Cookery Sessions
Fun family cookery sessions begin on September 14th 2011 and run on Wednesdays for six weeks from 5.30pm to 7.30pm. The course is run by City College Peterborough.
Over the six sessions you and your child will use a wide range of fresh ingredients to make pizza from scratch, apple crumble, Moroccan chicken, couscous, chow mein,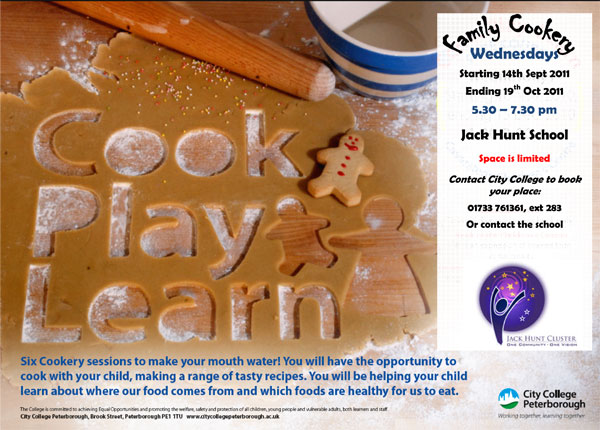 vegetarian enchiladas and Halloween cakes.
With your help, your child will practise following recipes and learn basic cookery techniques. As you cook with your child, you will have opportunities to encourage his/her literacy and numeracy skills.
The sessions also include fun quizzes to extend knowledge of food from around the world, healthy eating and food safety.
Click the picture on the left for full details including enrolment information - don't delay, places are limited for this popular course and are offered on a first come, first served basis.