''Big Finish'' Raises Money For Charities
"The Big Finish" was an opportunity for Jack Hunt Students to enjoy the last day of the Summer term and encourage the School's young entrepreneurs to raise money for charity.
All of the school's 84 Tutor Groups were given the challenge of raising money for charity using a £5.00 loan given to them four weeks previously. This enabled the students to plan events and activities which were then held at a huge Annual Fete for all students and staff, which made up part of the "Big Finish".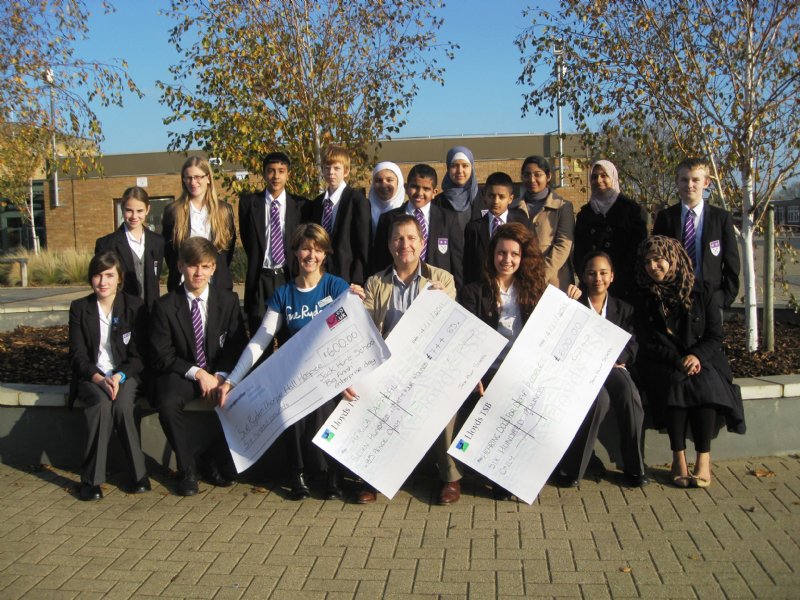 Activities included football shooting, selling sweets, cakes and drinks, guessing the amount of balloons in a car, face painting, holding treasure hunts and, not surprisingly, one of the most popular events, throwing wet sponges at teachers!
After repaying their loans, the hard work and generosity of the students raised £1,944.85 for the School's three chosen charities, Sue Ryder Care, Hearing Dogs for Deaf People and Jack Hunt School's African Appeal. Design and Technology Teacher, Adrian Hargreaves is planning to take two vehicles to Watamu, Kenya in Summer 2012 to hand deliver text books, toys and unwanted computers to two local schools and has been contacting schools and local businesses who may be willing to contribute or sponsor this expedition. He intends to leave the vehicles in Africa and donate one to a local hospital and the other to one of the schools.
The winning Tutor Group BHG, who raised a whopping £190.00 by holding a Barbeque at the Big Finish event were asked to present the £600 cheque to Jackie Page from Sue Ryder Care. Personal Tutor, Adrian Hargreaves, said, "The Tutor Group worked well together cooking and selling the food on the day and I was delighted to see what they can achieve when they all work together. Every single one of them contributed to our Tutor Group's success and they should feel very proud of themselves".
If anyone would like to donate any equipment for the schools or books to start up a small library for the whole community, please contact Adrian Hargreaves at Jack Hunt School by telephone (01733 263526) or email ahargreaves@jackhunt.net.