JHS Student Tara Forkin Wins Prestigious Award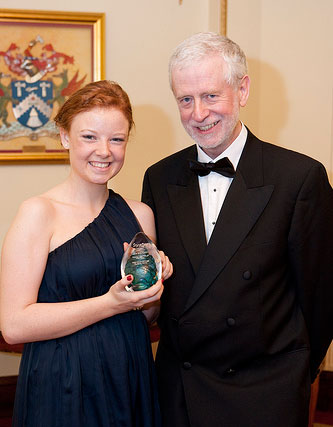 The Annual Signature Awards were held on Friday 18 November at London's Plaisterers' Hall. Regional shortlisted nominees from all over the UK were invited to the glittering ceremony which recognises people for their dedicated efforts to overcome communication barriers deaf and deafblind people encounter in everyday life.
During this fantastic event winners were announced in eight award categories, which included the newest category 'Young Learner of the Year'. Tara Forkin (16), a sixth form student at Jack Hunt School was presented with this prestigious award which recognises the dedication and exceptional commitment of learners studying the British Sign Language (BSL) qualifications.
Tara is profoundly deaf but that has not stopped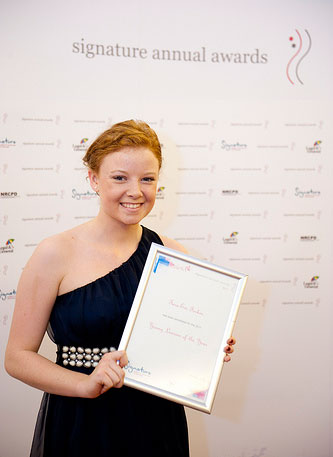 her from achieving her goals: Signature Level 3 NVQ/Certificate in British Sign Language, a strong GCSE grade set, Youth committee member for the PDDCS (Peterborough & District Deaf Children's Society), Duke of Edinburgh Awards, A level studies and much more.
Teresa Quail, Lead teacher of the Deaf for Peterborough Sensory Services based at Jack Hunt School said, "Tara is a fantastic role model, an inspiration to her peers and very deserving of this prestigious award. Well done Tara!"
The School would like to congratulate Tara and thank Paul-Michael Coldham for all his support and dedication to the achievements of the deaf learners at Jack Hunt School. He nominated Tara for the award and has enabled Tara and many other students and staff from Jack Hunt School and the local community to achieve accreditation in BSL; ranging from Level 1 to Level 6.
Paul-Michael Coldham, Tara's teacher of 26 months said:
"I have been teaching for nearly 15 years so have taught hundreds of people through my own centre, Handswork. No young learner more so than Tara has shown the committment and dedication in completing such a hard course. Tara - then just 15 years old - is the youngest learner I have had passing Level 3 in British Sign Language (equivalent to A Level) and was actually the first of 16 in her group to complete!!
Such was the standard of Tara's signing that she was able to discuss, debate and present on complex issues and not just stick to talking about the dentist or what is healthy to eat! I felt obliged - as her teacher of 26 months - to nominate Tara for the 'Signature Young Learner of the Year' award. I am very happy for Tara to have won the award as she deserved to. If more people took note of the committment and positive attitude she has shown, success would blossom. Tara has made me - her tutor - very proud."