Derek Redmond Presented Awards at JHS Presentation Evening
World Champion and Olympic Athlete Derek Redmond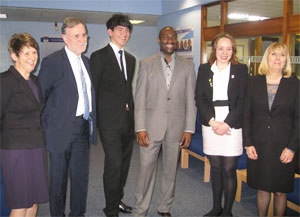 presented awards and certificates to students at the annual Presentation Evening at Jack Hunt School on Thursday 5 January 2012.
During Derek's career, he held the British record for the 400m sprint, and won gold medals at the World Championships, European Championships and Commonwealth Games, but he is best remembered for his performance at the 1992 Olympic Games in Barcelona where he tore his hamstring in the 400m semi-final but fought through the pain and, with assistance from his father, managed to complete a full lap of the track as the crowd gave him a standing ovation.
During the Presentation Evening prizes and trophies were awarded to students, both past and present, for their hard work, commitment and contribution to subjects they have studied and areas of school life. Certificates for GCE A Levels, GCSEs and Vocational Qualifications were also presented to students who left the school last year.
Pamela Kilbey, Headteacher, said "We are very proud of the outstanding achievements of our students and I am immensely grateful to all the staff of Jack Hunt School who work so hard to make these achievements possible. We are delighted to welcome Derek Redmond to the school and his speech was inspirational."
Key prize winners include Tom Chung who was awarded The Roy Duncan Award for achieving the best A Level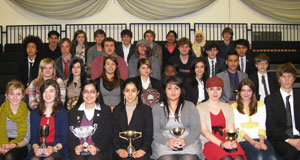 Results with three passes at Grade A* and one at Grade A; Jack Moore achieved 10 passes at A* and two at A and received the Barsby Trophy; Eman Wahid (the student who has made the most progress); Shaista Andlib (who has done the most for the school community); Rizwana Akhtar (the student who has made the most significant contribution to the leadership of other students); Jack Doherty (for a high level of achievement in Music); Cameron McNally (for outstanding personal achievement in Business Studies); Farzin Mavani (who has excelled in scientific investigation for further research in Physics) and Sam Tuck (for outstanding academic achievement in Sport Studies) also received special awards.
Click here to view more photographs from Presentation Evening 2012