No.10 Downing Street Meeting for Student Ambassadors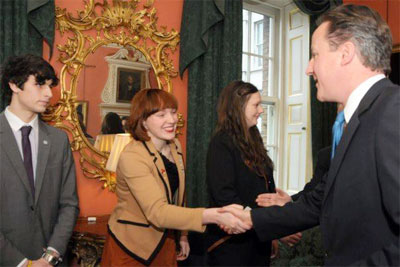 On Tuesday 24 January 2012, one former student and two Year 13 students from Jack Hunt School were honoured to be invited No 10 Downing Street.
Rt Hon David Cameron MP, the Prime Minister, and Rt Hon Nick Clegg MP, the Deputy Prime Minister, joined Holocaust survivor Ben Helfgott MBE and Student Ambassadors, Sam Tuck, Georgia Evans and Lucy Johnstone who have taken part in the Holocaust Educational Trust's Lessons from Auschwitz Project in signing the Trust's Holocaust Memorial Day Book of Commitment. This realised the students' ambition to take the campaign to fight prejudice and bigotry to the Prime Minister.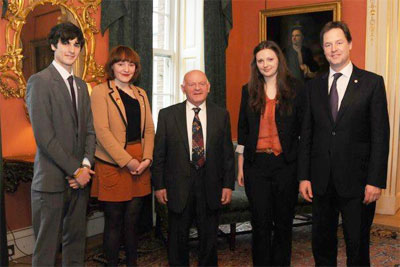 Georgia Evans wrote about her unforgettable day, "As Ambassadors for the Pledge Against Prejudice campaign, Lucy, Sam and I attended a student event in City Hall, hosted by Borris Johnson and attended by hundreds of Holocaust Survivors, Mayors, students and Holocaust Educational Trust Leaders. The event was in aid of respecting and commemorating the lives that had perished within Auschwitz but, more so, it celebrated the lives that remained and the powerful, inspirational stories they told.
Afterwards, we were chauffeured to No 10 Downing Street where we were to meet David Cameron, alongside his Deputy, Nick Clegg. As well as this, we were also honoured to be sharing the company of Ben Helfgott MBE, a survivor, and his wife, as well as numerous other members of the Holocaust Educational Trust.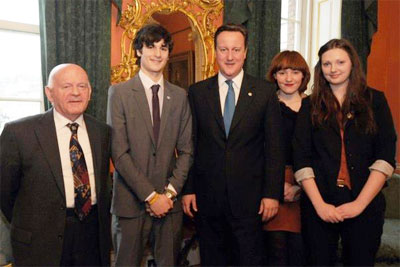 As we waited, we couldn't contain our anticipation mixed with excitement. When they entered, David Cameron and Nick Clegg were kind, thoughtful and considerably respectful towards Ben and enthusiastic towards the rest of the guests. When we had the chance to speak to them both individually, we handed them each one of our pledge badges and a booklet containing everything we had done and what we hope to achieve in the near future. They took these with interest, immediately pinning on the badges and made humorous comments about our 'Keep Calm and Join the Pledge' poster. They both seemed interested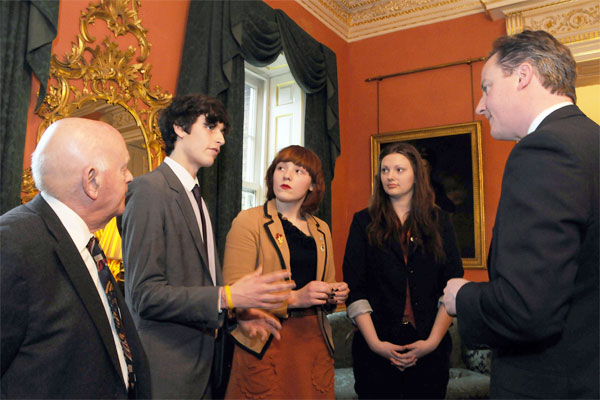 and impressed with everything that the Pledge had achieved, especially regarding Jack Hunt School's development and positive attitude to diversity. This for us was the greatest reward, as, after all, the students are the generation for change, and we only hope that if the same level of compassion and enthusiasm can continue, for the pledge, the sky is the limit!"
For further information, please see the following link to the Holocaust Educational Trust's press pages:
Holocaust Educational Trust | News