JHS Work Experience Celebration Evening
Year 10 Jack Hunt students recently completed their two weeks work experience, enabling them to gain knowledge and experience through Work Related Learning in the world of work. Two hundred and sixty seven students aged 14-15 went out to 245 employers who represented 53 occupational areas in Peterborough and London. These included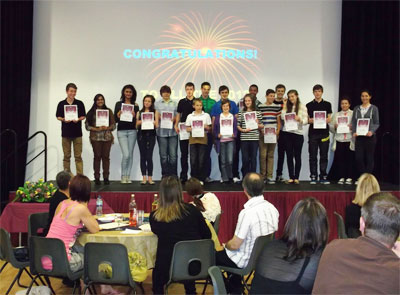 Sales, Hairdressing, Sports & Leisure, Animal Welfare, Mechanics and the Armed Forces. The School received huge amounts of praise and positive comments from employers and many students had a really memorable experience.
On Wednesday 20 June 2012 a Celebration Evening was held at the School where parents, employers, staff and Governors were invited to recognise the top 30 students who had been nominated to receive awards. These students were presented with certificates and reward vouchers which were presented by Headteacher, Pamela Kilbey.
Amanda Lawrence, Curriculum Area Leader for PDE & Citizenship said, "One again this year it was an incredibly difficult task to choose the top 30 Year 10 students from the Work Experience placement feedback. Our students proved to their employers that they are confident, hardworking, resourceful, creative, mature and quite simply the best they've had. At Jack Hunt School we remain committed to offering our Year 10 students the chance to experience two weeks in a real work environment and the opportunity to gain skills and a greater insight into their strengths and to help them make decisions about their futures".