Look, Smile, Chat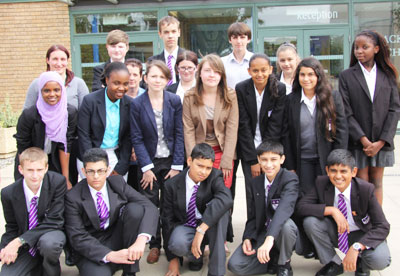 Hearing and deaf students at Jack Hunt School volunteered to be involved in the NDCS (National Deaf Children's Society) Look, Smile, Chat campaign. Activities involved, creating and piloting resources used to support the launch of the campaign during deaf awareness week last term.
The experience has empowered students involved to overcome communication barriers. The knowledge that it is not the individual's hearing loss which creates disability but the way in which society responds, is empowering these students to develop deaf awareness among their peers and school staff.
The free resources that were created (short films, lesson plans and posters) are available from the NDCS website http://youngpeople.ndcsbuzz.org.uk/looksmilechat. The simple steps made by the campaign have made a big difference to the lives of deaf teenagers; reducing the social isolation and creating new friendships.
The students were filmed for the TV programme See Hear. This is due to be broadcasted on Wednesday 19th September on BBC2 at 1pm. The programme will be available on BBC iPlayer after the broadcast (Series 32 Episode 14).