Deaf Teenager of the Year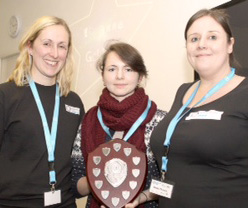 The Cambridgeshire Hearing Impaired Teams superb annual Moving On event took place on Friday 19th October. This Connexions Event for all deaf young people across Cambridgeshire grows and improves every year. The goodie bags always go down a treat with everyone but the information available this year from the many exhibitors was outstanding. "Music and the Deaf" also attended, giving many young people the opportunity to try a range of musical instruments.
To help the young people approach the exhibitors to ask questions, the organisers co-ordinate a quizsheet. At the end of the day, after handing in their completed sheets, the students also have the potential to win many different prizes, donated by the exhibitors. Many JHS students walked away with many nice treats.
This year the first ever 'Cambridgeshire's Deaf Teen of the Year' Award was introduced,
And the winner was.....
Our very own JHS student ....
Chyanne was nominated for the award for being a great inspiration to her mainstream peers as well as many other children and adults bith deaf and hearing.
Miss Quail said of her:
"Chyanne actively engages in activities with her hearing peers of all ages within her pastoral and house groups. She will frequently chat with students so they do not feel isolated. Chyanne has continued to commit to many activities and events even whilst studying towards her GCSE and A level exams because she does not want other children to face the same barriers in communication that she had faced. She freely volunteers to deliver deaf awareness sessions to school staff and external trainee teachers from local Universities. She openly explains about her operation, the process the doctor followed during the surgery and how much she hears with the implants opposed to the hearing aids."