Year 7 Families Learn What's In Store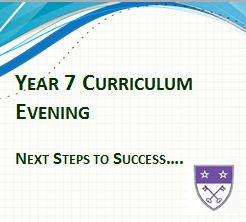 On Monday 12th November year 7 parents had the opportunity to attend the year 7 Curriculum Evening. The core subjects of English, Maths and Science outlined an overview of their course, success criteria in their subjects at KS3 and how parents could support learning. There was additional information about Personal Development Education and the Language for Learning initiative, the Kite Learning Platform and Extra Curricular Activities at Jack Hunt School. Parents were provided with a booklet including details of the KS3 curriculum as well as further guidance on how to support their child's understanding of Language for Learning and the 4Rs.
The evening was a huge success with parents finding the information provided invaluable in supporting the transition from Primary to Secondary School and ensuring their understanding of how best to support their child in year 7.
For any parents who did not attend the evening, further information can be accessed either on our website or from their home page on the KITE Learning Platform which all year 7 parents were given access to after the cildrens first Academic Mentoring sessions a few weeks ago.