IT'S PANTO TIME!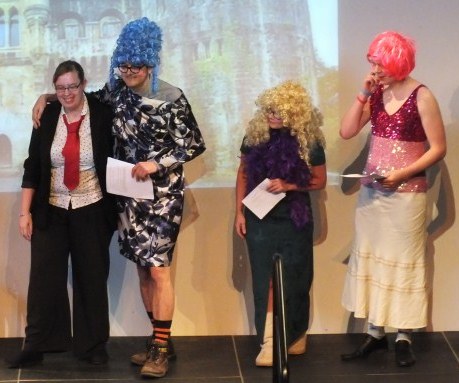 All six Houses have put on fabulous productions and Einstein House chose Cinderella for their end of term Pantomime. It was written by the students and the performances were a mix of students and staff. Mr Blant the Head of House, made a wonderful evil Stepmother and Year 12 student, Gavin Manning and Mrs Sanders gave stunning performances as the Ugly Stepsisters.
Mrs Kilbey made a special appearance as the Fairy Godmother, but the star of the show was Year 12 student, Chris De Freitas who stepped in 20 minutes before the show started and gave a brilliant performance as Prince Charming.
The whole production was thoroughly enjoyed by the students who really got into the spirit of things with the traditional boos and hisses.
The last of the House performances have now taken place and the judging is well underway to find who has been awarded prizes for the best budding script writers, actors and which House is the overall winner. The announcement will take place next week – watch this space......