Community Christmas Party
The Community Christmas Party was held at Jack Hunt School on Thursday 13 December 2012. The annual event was a huge success and over 70 guests from the local community attended with some guests being collected by mini-bus from their homes.
A buffet was provided including sherry and mince pies served by the students. There was a visit from Santa and his elves who had a gift for everyone. Entertainment comprised of Festive Songs from the School Choir, dance, musicians and a medley of songs from this year's musical Les Misérable. Afterwards the guests had an opportunity to win prizes in a raffle.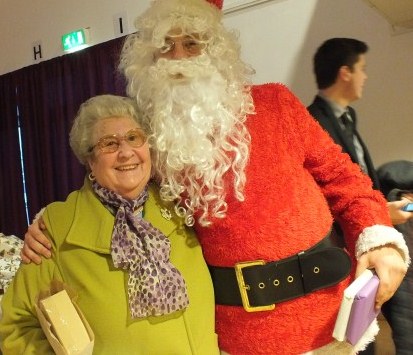 One of the guests, Mrs Audrey Butler commented on how much she had enjoyed the event and that she "looks forward to coming every year". Another guest commented, "You should be very proud of your students at the school. They are a real credit to the school and I look forward to coming again next year."
As in previous years, the Jack Hunt students took on the event organiser and hospitality roles and said how much they always enjoy this annual event and in particular talking to and spending time with the senior citizens.