Christmas News
CHRISTMAS SWAP SHOP
Jack Hunt Eco Reps celebrated Christmas in the most sustainable way this year. Not by wasting money on yet more shop bought material goods, but by bringing in their old, no longer loved, CDs, games, books and DVDs and swapping with each other for something "new" to them. This is a great way to have a clear out and make someone else happy for free! Well done Eco Reps for another great green year!
CHRISTMAS HAMPER COMPETITION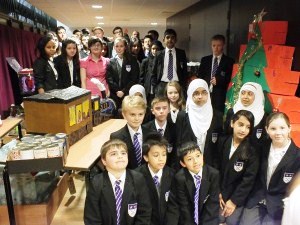 Jack Hunt School held its annual competition to design, create and fill Christmas Hampers. Over 80 Tutor Groups produced spectacular hampers, in a variety of designs from Christmas Crackers, Christmas Trees, Reindeers, Snowmen and of course, Father Christmas made an appearance.
Congratulations to the two winning Tutor Groups ESW and MRE who designed their hampers in the shape of a life-size advent calendar and the Polar Express Train.
The hampers were distributed, with the help of the winning Tutor Groups, to Peterborough Street's Shelter for the Homeless, Peterborough Foyer, New Haven and addresses provided by Age UK. The school would like to thank Arrowpak International for helping with the deliveries.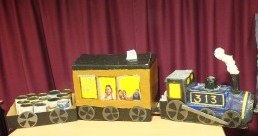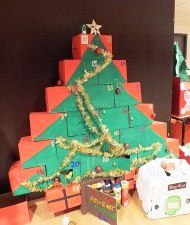 Miss Whitwood, Religious Education Teacher and Co-ordinator of the SEAL Programme, who organised the competition, said, "The students have made us extremely proud again this year for the level of enthusiasm, empathy and generosity they have shown when producing their hampers. They have demonstrated high levels of collaboration and teamwork to work within tutor groups and produce fantastic, food filled creations!"