Andy Cave Presented Awards at Jack Hunt School's Presentation Evening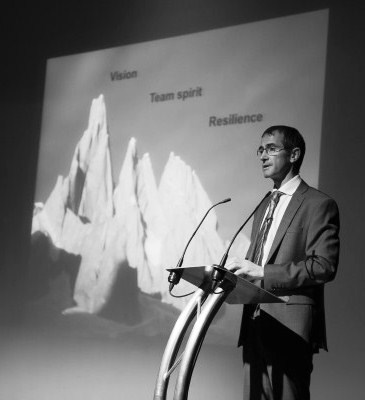 Mountaineer and Author, Andy Cave presented awards and certificates to students at the annual Presentation Evening at Jack Hunt School on Thursday 20 December 2012.
Andy Cave is one of the most renowned mountaineers in the world today and has leapt from working through claustrophobia, 3000ft underground as a miner to conquering some of the most formidable and daunting mountains in the world. He delivers inspirational and motivational lectures showing how strength of mind and determination can overcome life's toughest challenges.
During the evening Andy Cave presented prizes and trophies which had been awarded to students, both past and present, for their hard work, commitment and contribution to subjects they have studied and areas of school life. Certificates for GCE A Levels, GCSEs and Vocational Qualifications were also presented to students who left the school last year.
Pamela Kilbey, Headteacher, said "We are very proud of the outstanding achievements of our students and I am immensely grateful to all the staff of Jack Hunt School who work so hard to make these achievements possible. We are delighted to welcome Andy Cave to the school and his speech was inspirational."
Key prize winners include Farzin Mavani who was awarded The Roy Duncan Award for achieving the best A Level Results; Zeb Ali Khan received the Barsby Trophy for achieving the best GCSE Results. Special awards were also presented to Khuram Mehrban (the student who has made the most progress); Georgia Evans and Lucy Johnstone (students who have done the most for the school community); Tara Forkin (the student who has made the most significant contribution to the leadership of other students); Olivia Murphy (for a high level of achievement in Music); Asha Parekh (for outstanding personal achievement in Business Studies); Lewis Connolly (who has excelled in scientific investigation for further research in Physics) and Matthew Newton (for outstanding academic achievement in Sport Studies).