Deaf Students deliver Workshops at Cambridge University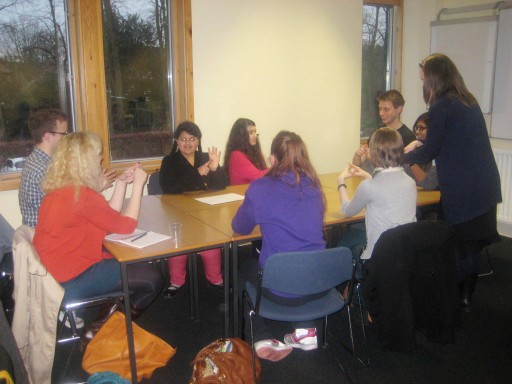 Deaf students from years 7 to 9 have been actively involved in deaf awareness training sessions over the past 18 months hosted here at Jack Hunt School and have also been to visit trainee teachers from both Cambridge University and the University of East Anglia.
During the sessions aimed at improving teachers awareness of their deaf students, the pupils demonstrated and taught fingerspelling and basic BSL (sign language) conversation skills. Within the hour, learners were able to fingerspell their name as well as sign where they live, what they teach, curriculum topics, emotions, colours and more!
Our students are making a massive difference to both the trainee teachers and their future pupils plus, they really enjoy the experience. They relax the adult learners, generating a fun and relaxed environment and not only do they get a day away from school but it also gives them a chance to visit another city and to build their confidence.
One trainee teacher, Louise, made these comments:
'As for the mini BSL lesson, I was honestly blown away. I can't put into words how much I enjoyed that hour of the day and how moved I was by those children. It's going to sound cheesy however I word it, but I had to fight the lump in my throat from turning into tears when they were signing to us about themselves and then teaching us. I know the purpose of the lesson was not to make me well up, nor necessarily make me get some perspective, but it certainly did both of those things. I absolutely loved learning BSL and watching it being used as the assistants and children communicated with one another. I've always wanted to learn it and I think that lesson on Friday has just urged me even more to finally look into doing a course in it. To be able to teach languages and also communicate effectively with pupils with hearing difficulties in my class would be an ideal that I would love to try and achieve at some point. The children were so animated when they were teaching us and found it hilarious when we made silly mistakes or got lost half way through the alphabet and it was wonderful to see how confident they were and how included they felt. That hour was one of the highlights for me so far.'
These sessions have been so impressive that the students were recently invited to deliver workshops to university students during an Adolescence themed day. The students were a massive hit and the impact of their sessions should benefit many young people's learning for a long time.
Well Done!
Miss Quail