Sign2Sing World Record Attempt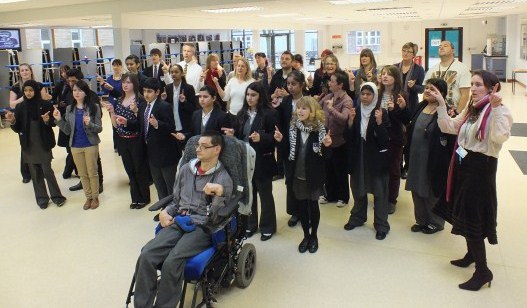 On Wednesday 6 February 2013, at precisely 2.45pm, children, young people and adults from the local Peterborough deaf community supported Middleton and Jack Hunt School children with their respective Sign2Sing attempts. Both schools have a specialist provision for deaf students and after their successful involvement in last year's world record winning attempt, the students and staff committed to being involved in this year's efforts.
The students joined tens of thousands of individuals across the UK to set another new record for the most people singing and performing a song in sign language at the same time. Steve Powell, Chief Executive of Sign Health is hoping around 1,200 schools will participate this time to ensure the current world record is broken. He said, "Last year (2012), 114,277 children took part in our second Sign2Sing event and broke our previous record".
This year all participants involved received a certificate with a secret code to unlock Monkey Manor with access to games, competitions and prizes including the chance to win an iPad Mini. The money raised from the Sing2Sing events will be used to continue Sign Health's charity work, helping to improve the mental and physical health and well-being of deaf young people and adults.
Miss Quail, Lead Teacher of the Deaf said, "It was an inspirational event that has brought together deaf role models from the extended community for a very worthy cause and we look forward to organising something for Deaf Awareness Week later this school year".