Holocaust Memorial Day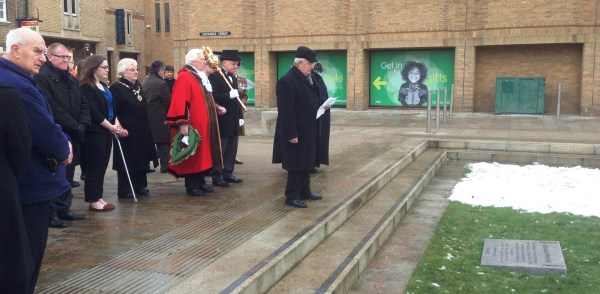 Annually, the world remembers the victims of the Holocaust through Holocaust Memorial Day, where communities share silences and wear pins or badges to commemorate those made victims of prejudice. Jack Hunt School marked its remembrance on the Thursday 24 January, where many public figures, including the Mayor, students from schools in the city and an array of community speakers gathered at St John's Church, to pay respect.
Jack Hunt students attended the service including members of the Pledge Against Prejudice team - Jessica Sharman, James Prange, Catherine Cook and Toby Abbs – who handed out programmes to members of the general public.
Miss Hardy brought her quartet of hard-working musicians, including Elizabeth Parker, Delene Hammond, Olivia Murphy and Hayley Mitchell who played a beautiful rendition of Rosalie Gerut's "We Are Here" to welcome the public to the service.
Towards the end of the service, Head Girl, Catherine Cook was given the honour of following in the footsteps of the Mayor as the official wreath-bearer - a very important role within the service. We are immensely proud of all the students who took part in the service which was also attended by Mrs Kilbey and Mr Roberts.
Our school's participation in the event reaffirms our passion for building bridges between our diverse communities and our determination to address prejudice in whatever form it might take. If you would like to find out more, or if you would like to join our Pledge Against Prejudice team, speak to Miss Evans or our Pledge Ambassadors – Catherine Cooke and Toby Abbs.
Miss Evans