Got To Dance Live Semi-Final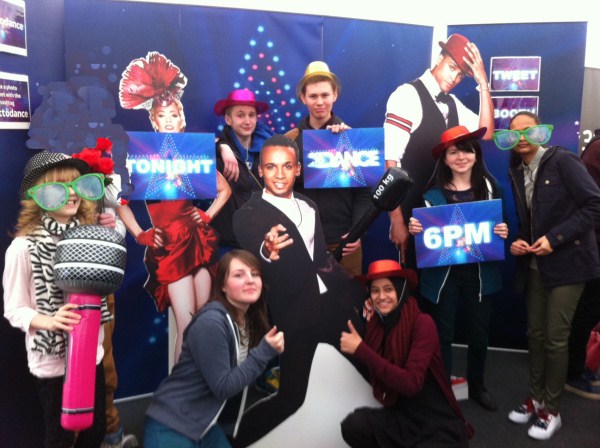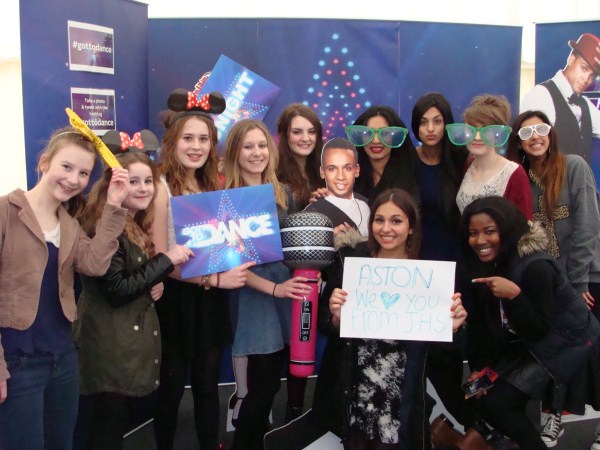 On Sunday 24 February, 100 students and staff were lucky enough to have the opportunity to attend the live recording of the Sky 1 TV programme, "Got To Dance". The programme was one of five live semi-finals being filmed at Shepperton Studios in Middlesex.
The production company, Princess Productions, had contacted the school asking for photos of new judge and former Jack Hunt student, Aston Merrygold. As a thank you, they arranged for the school to receive tickets so that students could experience this popular TV show being screened live!
On arrival, students and staff were escorted into a marquee where all the families and supporters of the competing acts were gathered, and were asked to wait until the studio was ready for everyone to take their seats. Cardboard cut-out figures of the judges, Aston Merrygold, Kimberly Wyatt and Ashley Banjo, were arranged in a "Tweet Booth" where people were encouraged to pose and then to Tweet the photos.
The students had great fun using all the props provided, as you can see from the photos, and this all helped to make the waiting time go quite quickly.
The party was then escorted into a large studio which seated 1100 people (including a number of celebrities) and shown to their seats where they were instructed to be as 'noisy' as possible and encouraged to shout and applaud to support all the acts. The warm-up and ad-break entertainment was excellent and ensured that every member of the audience was noisily enthusiastic!
Events, even on 'live' TV, are not necessarily what they seem: when Kimberley Wyatt performed her new single, this was recorded in the hour before the live show began and then slotted in later on. This meant that she had to rush off and change into her performance costume to ensure continuity, as if she had just come off the stage!
All the staff and students had a fantastic time and, although they didn't get chance to speak to Aston, some of the students managed to get Davina McCall's autograph and she told Aston that students from his former school were in the audience.
Check out Davina and the audience (including the staff and students) doing "The Harlem Shake" Got to... Harlem Shake - Sky1 HD.