Students compete in the Peterborough Drama Festival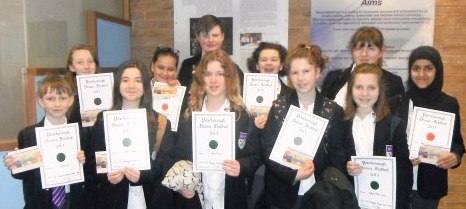 On Saturday 2 March, 12 Jack Hunt students took part in the Peterborough Drama Festival at Dogsthorpe Infant and Junior School. The Festival, which has taken part in the city since the 1950's, saw over 700 entrants take part in the three day event.
Jack Hunt Drama Club Year 8/9 students Kayleigh Burdis, Kelsey Asplen and James Lee came 1st in their Improvisation Category, with Mollie Swallow, Rameesha Iqbal and Simona Eidlukonyte coming 2nd. Eloise Piccaver, Safiyyah Mastrocristino, Aimee Herson and Zahra Sadikot in Year 7 also came a credible 2nd in their category.
Calum Daly and Hadiya Suge in Year 10 took part in the Duologue Category and chose to perform a unique and innovative excerpt from the play 'Two' by Jim Cartwright. The thought provoking piece was well received by both the audience and the adjudicator.
Commenting on the Festival, Jack Hunt Drama teacher Jodi Plane said, 'I was delighted to take the students to this year's Festival and very proud of their performances. All four pieces received very positive comments from the adjudicator and the students are already planning on returning to the Festival again next year'.