Students Go Further for Fairtrade Fortnight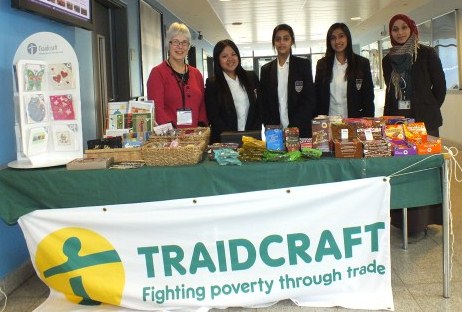 Jack Hunt School marked the nationally celebrated Fairtrade Fortnight which ran from Monday 25 February to Sunday 10 March.
The aim of this fortnight was to promote and create a greater awareness of Fairtrade in and around school and persuade people to buy products carrying the FAIRTRADE Mark.
The Student Fairtrade Working Team of Iqra Khalid, Nadine Hidalgo and Alisha Ali are working towards achieving the Schools Fairtrade Award and helped organise SEAL lesson resources, challenges and competitions.
An in-school Fairtrade Wrapper Challenge was won by Aminah Hussain (7CSM). The competition entailed students bringing in wrappers of Fairtrade products they had used and the winner was selected at random.
To mark the end of the fortnight Maggie Noble, TraidCraft Representative and the Student Fairtrade Working Team ran a tuck shop in the Block 4 Foyer.
Mrs Hayat