British Airways Language Award Proves A Soaring Success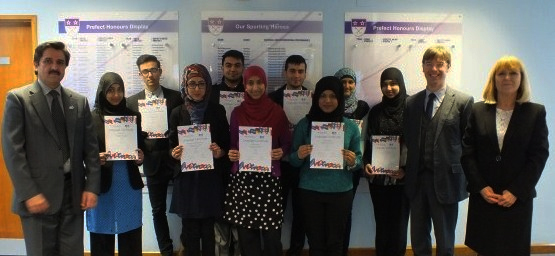 Congratulations to all 23 Jack Hunt students who recently passed the British Airways Language Flag Award (BALFA) in Urdu.
The introduction of a language test for staff within British Airways highlighted a desperate shortage of language speakers in the UK. The Flag Award encourages young people to continue language learning and to provide a link between classroom learning and the working world.
Approximately 2500 students take the Award each year and Jack Hunt School was awarded accreditation allowing them to conduct the BALFA in Urdu in July 2012. Since then, extra classes have been taking place for students in Years 10 to 13 every Friday after school and they all sat their exam during the Autumn Term.
The BALFA test complements GSCE/GCE coursework, promotes confidence in speaking and links languages with practical situations in the real world. All the students entered passed the BALFA and Mrs Kilbey presented their award certificates on Wednesday 20th February. The students will be able to include these in their Records of Achievement, setting them apart from the crowd when they enter the ever competitive job market.
Mr Mandin, Curriculum Area Leader for Modern Foreign Languages said, "Congratulations to all the students on passing this award. As a result of their success, the school is planning to commence lessons for the BALFA in other languages".