Deaf Students Receive Diana Active Campaigner Award

A group of deaf students from Jack Hunt School have been awarded the Diana Active Campaigner Award in recognition for their work within our school and local community. The group of eight young people have overcome the challenges they face as a result of their hearing loss and have raised the profile of deaf awareness. They have actively supported many national campaigns to reach a wider audience about deaf awareness. The group has helped to remove the stigma about being deaf by educating teachers and trainee teachers.
Following a student led course earlier this year, a University of East Anglia course tutor stated that:
"The session with deaf pupils was absolutely wonderful, one of the best teaching sessions that I have ever observed." Jack Hunt School and Peterborough Sensory Support Services are immensely proud that the 'voice' of these students is being 'heard' and recognised by the Diana Award. To quote Mr Barwise, Assistant Head Teacher at Jack Hunt School "I am immensely proud of our students and their hard work and dedication in raising the profile of deaf awareness amongst future generations of teachers and teacher training providers. The effect of what they are doing will impact upon students and classrooms now and for many years to come".
Supported by a specialist teaching assistant team and Lead Teacher of the Deaf, these deaf young people undertake many different projects. The grassroots level intervention of the efforts of these young students is an inspiration to many.
"The way that these very young learners interacted with us, their warmth, enthusiasm and levels of engagement were a real pleasure to witness. Our experiences with them have fed directly into our continued work on special educational needs when back in the Faculty. Moreover the experience with the deaf and HI students had a profound effect on the trainee languages teachers".
Linda Fisher, Lecturer in Language Education, University of Cambridge.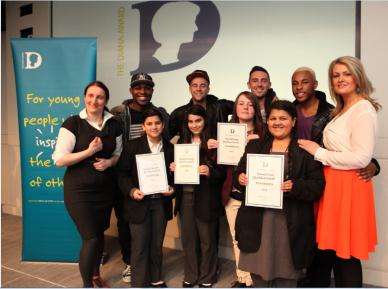 TV Presenter and Business Expert Kate Hardcastle presented The Jack Hunt Deaf Student Group with the award. 65 young people from across the UK were presented with Diana Awards at the national award ceremony where the group 'The Risk' from X Factor 2011 performed three songs.
Tessy Ojo Executive Director of the Diana Award said: "The Diana Award is proud to recognise young campaigners, like The Jack Hunt Deaf Student Group, who have the confidence and courage to raise the profile of deaf awareness. We know that with the Diana Award, young people will inspire others to make a positive difference. With a growing network of 39,000 Award Holders, we are building a force of young people who are committed to take social action and improve our communities."
The Diana Award was established in 1999 as a lasting legacy to Diana, Princess of Wales' belief that young people have the power to change the world. The award is presented to young people – from all circumstances and sections of society - who are committed to taking social action, whether they work as volunteers, fundraisers, campaigners or carers or anyone who improves their community.
The award celebrates the amazing achievements of inspirational young people, who defy expectation and challenge the negative stereotypes that are so often applied to them.
Award Holders are encouraged to continue building a better society for us all and the Diana Network gives them the support and skills needed to achieve their full potential. I am sure these young individuals will utilise the network of support now available to inspire other young people to make a positive difference.
For Katie Bocking, aged 17, "The ceremony was really inspirational, emotional and encouraging. It was full of people with different backgrounds and reasons for winning their awards. Receiving my award is something that I will add to my CV or personal statement, it is also something that I can look back at and be proud of. I received my award for my active campaigning work raising the profile of deaf awareness in many ways."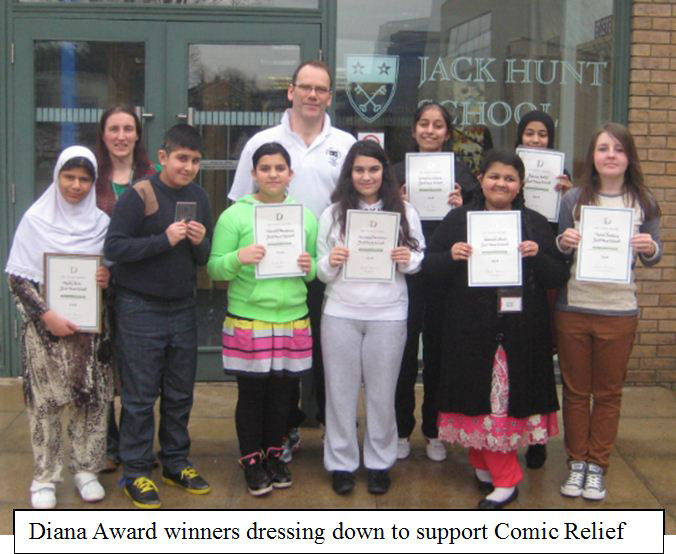 For more information on the Diana Award or to make a nomination visit: www.diana-award.org.uk