Sainsbury's School Games
Just before the Easter holidays, Jack Hunt School co-hosted the Cambridgeshire County, Spring School Games along with Stanground Academy. The Games are part of an initiative with Sainsbury's and Living Sport which aims to provide a unique opportunity to motivate and inspire millions of young people across the country and inspire them to take part in more competitive sport at school. It takes place at four levels: competitions in school, between schools, at county level and then National Finals which will take place in September.
The Spring Games was the culmination of the inter-school competitions across Cambridgeshire and we were extremely proud to host the Key Stage 2 Gymnastics Floor and vault competitions as well as the Key Stage 4, Team and Individual Rowing Events. Although we were not one of the County Level competitors this year, a number of our students took part in the 'Rowing Plus' event, designed for students with mild learning disabilities.
Around 200 Competitors, volunteers and leaders from 5 primary and 5 secondary schools, attended the event at Jack Hunt and our fantastic Sports Leaders were exceptional ambassadors for the school. The 20 students took up the reigns as event organisers for this exciting day and were in charge of everything needed to make the day a success. They set up the venue, provided refreshments, directed cars and worked alongside the British Gymnastics and Rowing team to co-ordinate events and assist with the overall smooth running of the day.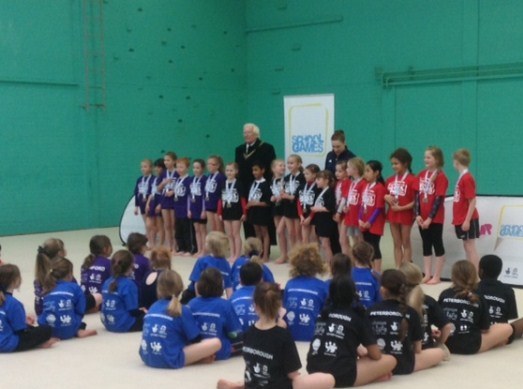 We are really proud of our Sports Leadership programme which provides opportunities for young people to volunteer and take up a purposeful role whilst gaining recognition for their skills as leaders and develop a valuable sense of self-worth. Many go on to build and pursue ambitions for further education, training and future employment which they otherwise would not have dreamt of.
Throughout the day the games were watched by dignitaries from the Youth Sports Trust, Living Sport and the Mayor of Peterborough as well as Paralympic Swimmer Harriet Lee, who was also on hand to present the awards to competitors.
Speaking to the Mayor, George Simons, he commented that:
''it's great to see so many young people taking part in a range of activities. I just hope the Olympic Legacy can continue to inspire students to regularly take part in competitive sport."
Tim Smith
Teacher of PE