Deaf Awareness Week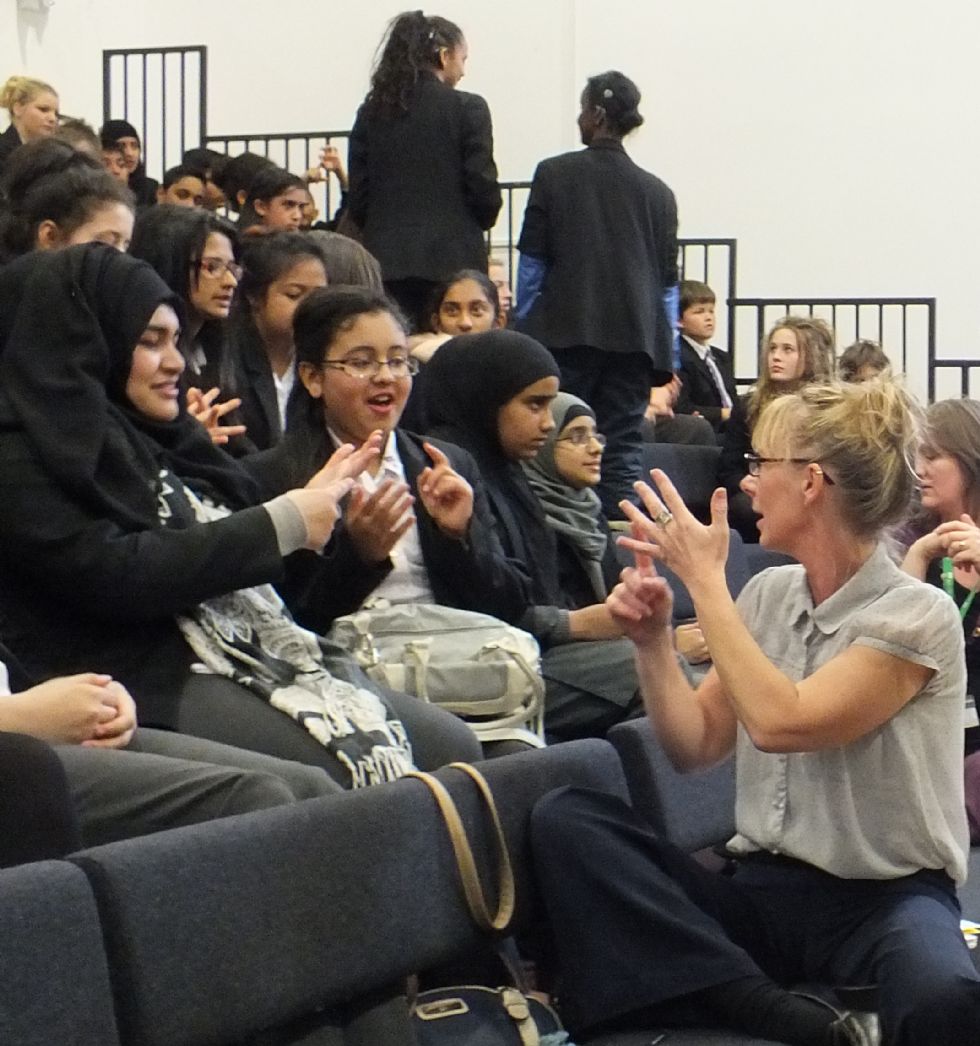 Students and staff in the ERHPS (Enhanced Resource Provision for Hearing Support) at Jack Hunt School are always busy helping students and their local community become more aware of what it's like to be deaf, and this week is exceptionally important as it's National Deaf Awareness Week.
There has been lots going on around the school to try and raise deaf awareness. Katie Bocking and Ayesha Quraishy, two deaf sixth form students, have delivered deaf awareness assemblies to all six school houses (over 1700 students). They shared their experiences about what it's like to be deaf, how experiencing the world around them is different and some of the challenges they face in everyday situations. They also showed how cochlear implants can make and enormous difference and surprised students with the £30,000 cost of these life changing devices. This lead them to invite students to a fingerspellathon to raise funds for the National Deaf Children's Society (NDCS). 100 students gathered in the main hall for the event, they learnt the fingerspelling alphabet, took part in some activities to enhance their knowledge and finished with the whole group spelling the word 'Fingerspellathon'. Students who attended made a donation to the NDCS which will help them improve the lives of more deaf children.
A group of deaf and hearing students headed by Calum Daly produced a deaf awareness video 'How to Stay Safe in a Mainstream School'. The video was the winning entry in the national 'Children's Create!' competition, which is being released this week to the general public and can be found on our website. Javaria Nargis, one of the actors in the film, said "I played the part of a deaf person with no friends, it was difficult at the start but became easier and I really enjoyed it". In all, 7 students were involved and used their Form time to rehearse and film the video.
Eight Jack Hunt School deaf students visited Middleton Primary School to lead mini sports activities with the deaf pupils to raise the profile of the upcoming Deaflympics event taking place in Sofia, Bulgaria later this summer. They were joined by 9 primary deaf students aged 4-11 who took part in multi skills activities using bean bags and hoops. Initially all the students were nervous but quickly engaged with the activities and had great fun. They have been asked to return again as it was such a success.
A number of students undertook the St Johns Ambulance Youth First Aid Course, a challenge for any young person, covering all aspects of first aid from bleeding to resuscitation. This was not only challenging for the students but also the trainer and members of Jack Hunt School staff were on hand to offer guidance on how normal training practise can be modified for a person with hearing loss. This week the students will be receiving their well-deserved certificates.
The culmination of National Deaf Awareness Week will be the Charity Family Fun Day being held at Jack Hunt School on Saturday between 10 and 2. Many deaf students from Jack Hunt are volunteering at the event including selling key rings and brooches that have been designed and made by our students as part of an enterprise project.
For further information check out the Peterborough District Deaf Children's Society website (www.pddcs.co.uk) or contact or Miss T Quail (Lead Teacher of the Deaf) tquail@jackhunt.net